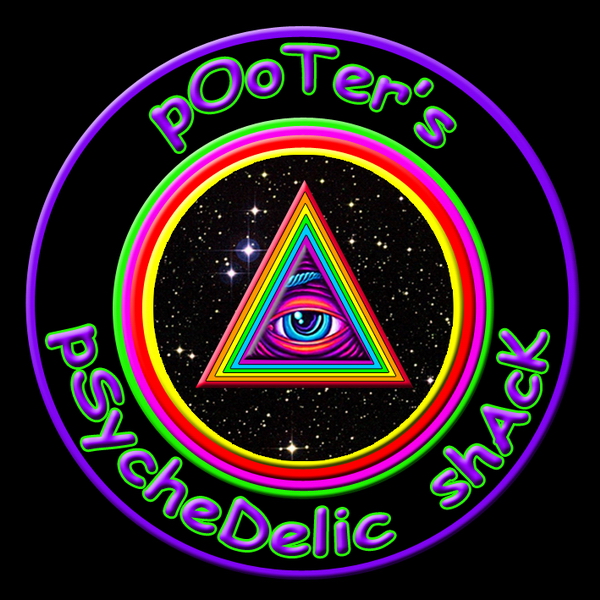 the Histery & mYstery of
pOoTer's pSycheDelic shAcK
This page is a bit of a rambling history in case you weren't here in the year 2000 when the first site went live and/or you are curious about who is/was involved in putting this all together.

Beginnings:

This site was started on January 3rd 2000 and went live on 22nd October 2000 using NetObjects Fusion originally then later on Adobe Dreamweaver.

The original site launched with 120 pages which grew to 277 pages by its First Birthday and eventually ending up at 469 pages containing 407,970 words and 2970 images.

The basis for the entire project was a collection of scrap books called Chronikles that pOoTer had been keeping since the early 1980's.

Chronikles comprised of gig reviews, posters, magazine clippings, flyers, tickets, handbills etc and the hope was to one day get all this scanned in and end up on a website.

Once upon a time there were six people contributing to site construction along with many submissions from readers but daily life, death and all sorts of other things got in the way including a 10 year hiatus of no site updates.
Original Team (2000)

pOoTer :
Instigator, inept Sysadmin & Techie, Non Academic Historian and all round annoying bastard.

pOoTer is into Heavy Psychedelia, 60's Punk, Garage, Krautrock and any really wacked out weird shit.

Faves include Terry Brooks, Monster Magnet, AMT, Charlatans, Gong, Webcore, Fuzztones, Ash Ra Tempel, Sky Saxon, Circle, Love, Morgen, Soft Machine, Cold Sun, WCPAEB and early Pink Floyd.

He loves poster art, light shows and anything with a 500ci supercharged V8 in it. Famous for being online for HUGE periods, being very impatient and going to great lengths to Cut an Paste everything possible.

pOoTer also designs and maintains this site and occasionally writes a review or two....


Mush O'Rune: :
Psychedelic Warlord, discerning psychedelic culture archivist and 60's/70's veteran. Mush is into poster art, underground books & comics, the Grateful Dead and anything Day-Glo. Mush does a lot of work in the Literature section as well as some album reviews. We all think he is a cool dude too........


Dr Sandoz :
Resident pharmacological madman and Space Rock afficionado with a soft spot for West Coast Psych and wild Garage Punk.

The Dr. is currently busy reviewing a 9 foot tall pile of albums for pOoTer's pSycheDelic shAcK


Sir Eel :
Our very own psychedelic Picasso and lover of all things pSycheDelic. Apart from his weird artwork Sir Eel is also famous for his flatulence and coarse jokes and is a huge fan of Gong and classic psychedelia. Occasionally seen on high peaks with his buddy pOoTer, Sir Eel is also a born again NetHead.


Doctor Dark :
A mysterious dweller of the shadows and known ally to the Dark Side.

Doctor Dark's immense knowledge of Krautrock and West Coast Acid Rock, along with his love of Classic Psychedelia and Progressive Rock more than qualifies him for his prolific outpourings in the Bands Index where he delivers a constant stream of reviews of classic albums.

Also known as Pooterland's leading authority on Bat Chain Pullers and Kandy Korn.
Look out for his work elsewhere on the site because he has broken out of the album reviews room we had him locked up in and he is now running amok...

He was spotted recently amongst the dark shadows deep in Pooterland so who knows where he will strike next....!!!


BlueMagoo :
All American psychedelic Beagle-Meister, artistic person and ex-resident of Planet Saturn BlueMagoo, now resident on the 'small island' called England is a learned man in the ways of West Coast Psych and exercises his authority by furnishing some fine album reviews for Pooterland.

Currently involved in creating additional material for our Bands Index and spending all his hard earned shekels on psychedelic artifacts..................(don't tell his wife!!)

This is what the original Homepage looked like:
This is what the original Index page looked like: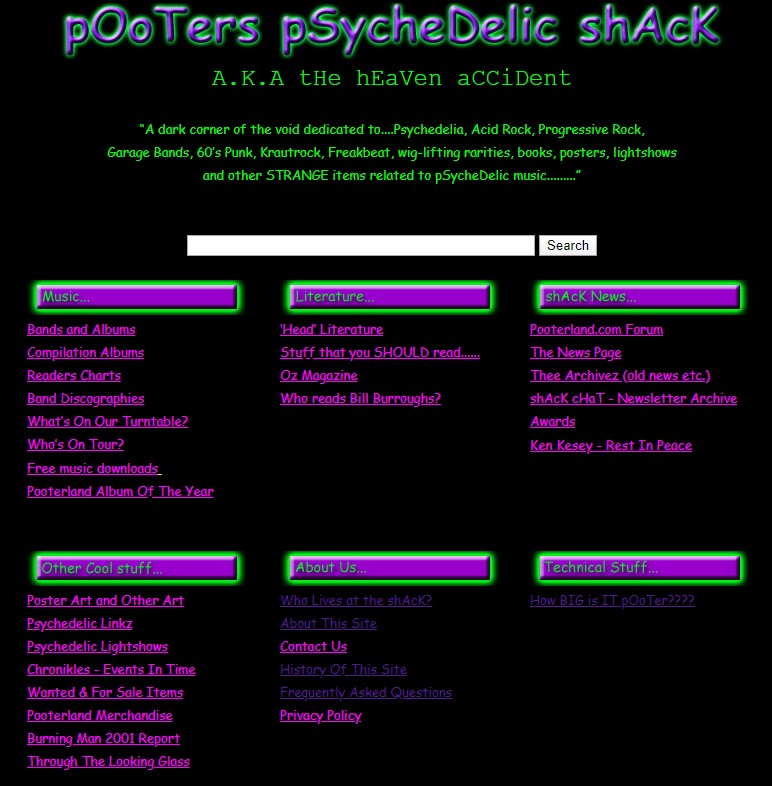 So, basically after people moved away, got busy with other stuff, died etc. the site went into stasis for over a decade but the hosting was religeously paid for to keep it available to the world.


Fast forward to March 2020, its the midst of the SARS-CoV-2 COVID-19 pandemic, the entire world is in various stages of Lockdown and the last man standing on this project is me (pOoTer) with a whole bunch of time on my hands, a fridge full of Craft Beer and a newly purchased subscription to Adobe Creative Cloud.

What else was there to do to prevent Lockdown Insanity apart from do what I had been telling people I was going to do for years - 'Re-write Pooterland' ?


It seems that since we 'went dark' we had become ever so slightly famous (or infamous?) in various circles, became responsible for rekindling relationships with people going right back to the Sixties in the Psychedelic Light Show world and even ended up being mentioned in at least two published books (A Pretty Smart Way to Catch a Lobster (the Alice in Wonderland Years)) and Wheels of Light by Kevin Foakes.


We started the original Light Show Index that has sadly been ripped off many times, for a while we sold Pooterland merchandise and also freely distributed around the world a series of High Quality Lossless recordings - "San Franciscan Nights" San Francisco Ballroom Scene - San Franciscan Nights 1966-1970 Volumes 1-8.

Over the years we met many bands and Light Show Artists from the Sixties and made lots of friends via this site but 20+ years, bereavements, several house moves and life in general has taken it's toll and here we are, or here I am.

This 2020 version of pOoTer's pSycheDelic shAcK is a little more streamlined than the old site so some of the irrelevant/superfluous pages are gone forever but don't worry all the good stuff has been saved and re-written into what you see before your very eyes.


For this 2020 version I have revamped all the Album Art wherever possible adding in hundreds of pieces of record cover art that never existed on the original site.


One last feature from the original site that at first was not going to feature in the new design was the rating system for albums using Electric Sugarcubes.

After careful consideration the atwork was redsigned and included here for your pleasure/amusement so if you are wondering what people are on about when they give an album 'four sugar cubes' just think four stars but with a psychedelic twist...
Epilogue:

It would be remiss of me not to mention a long time supporter of this project and in Post COVID years a major contributor to The Light Show Index and that is Neil Rice (Ex Krishna Lights, Ono Yasumaro's Illumination Factory, Infusoria Five Acre Lights, founding member of Optikinetics, Liquid Light Orchestra and in recent years The Odd Light Show with Nigel Bailey (Ex Optikinetics).

Neil was the first UK Light Show operator I interviewed way back in November 2000 when he threw open the doors of the Luton HQ and introduced me to Phil Brunker and the rest of the team.

We have remained in contact over the last 22 years, met up at events, drank beer, told tales of monsters and dragons and his continued contribution to The Light Show Index has helped push the numbers right up to our 'nice round number of 1000' which we hope to achieve one day in the very near future...

pOoTer
October 2022

Welcome to Pooterland V8.0 :-)
Love & Peace,
pOoTer - March 2020 (In the Year of COVID-19)
Handbuilt with Adobe Dreamweaver Creative Cloud
Image editing - ACDSee
Email Solutions - The Bat!