Dead Dog/Club Dog
(1984 -1994)
Do you have any memories of Dead Dog/Club Dog?
The now legendary Megadog can trace its roots back to the first Dead Dog event in a dimly lit room at the Moonlight Club, West Hampstead, London in 1984 which in the 60's was the infamous Klooks Kleek seeing performances from The Rolling Stones, The Artwoods, Family, Fleetwood Mac, Jimi Hendrix, John Mayall, Georgie Fame and many many others.

Two weeks before the first Dead Dog event at The Moonlight Club was the first ever gig by a band called The Stone Roses who I think became quite famous :-)
Railway Hotel AKA Moonlight Club
(Copyright England Underground)
Dead Dog/Club Dog was created by Michael and Bob 'Dog' assisted by their sleeping Dog partner Johnny and a changing cast of creative friends and long term associates that numbered at least 20 other individuals as time passed, many of whom were involved with the organisation for years.
There were seven one-off events staged under the moniker 'Dead Dog Promotions' between November 1984 and mid 1986 before they started a regular event which became known as Club Dog in September 1986:
November 6th, 1984
The Treatment supported by The Kevin Staples with films by Alan Dien

(The Moonlight Club, West Hampstead).
November 22nd, 1984
Criminal Tango supported by The Dragees with films by Alan Dien.

(The Greyhound, Fulham).
February 16th, 1985
The Chainsaw Party featuring The Cannibals supported by Giant Aphid Attack, Bludgen and Astrogone Arglegargle with freeform mud wrestling (in a paddling pool)

(The All Saints Centre for the Performing Arts, Southgate).
Note:
The Chainsaw Party got spectacularly out of hand, mainly as a result of staging the mud wrestling in a paddling pool (bad idea as the pool burst, spewing mud all over the varnished floor of the church hall that was used as the venue, which then froze as it was a very cold night) and also the motorbike tyre marks that were left across the pristine floor as a result of….mayhem.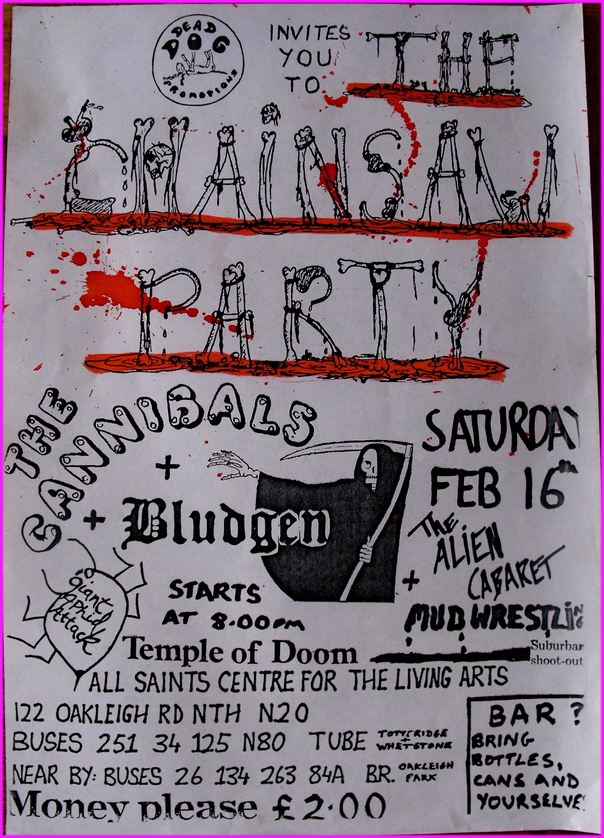 February 22nd, 1986
Webcore and Ozric Tentacles supported by Zodiac Mindwarp and the Love Reaction and Andy on Tongue Drums, Trance Travel Sound System and Hassid Casualty Light Show

(The Cricklewood Hotel, Cricklewood)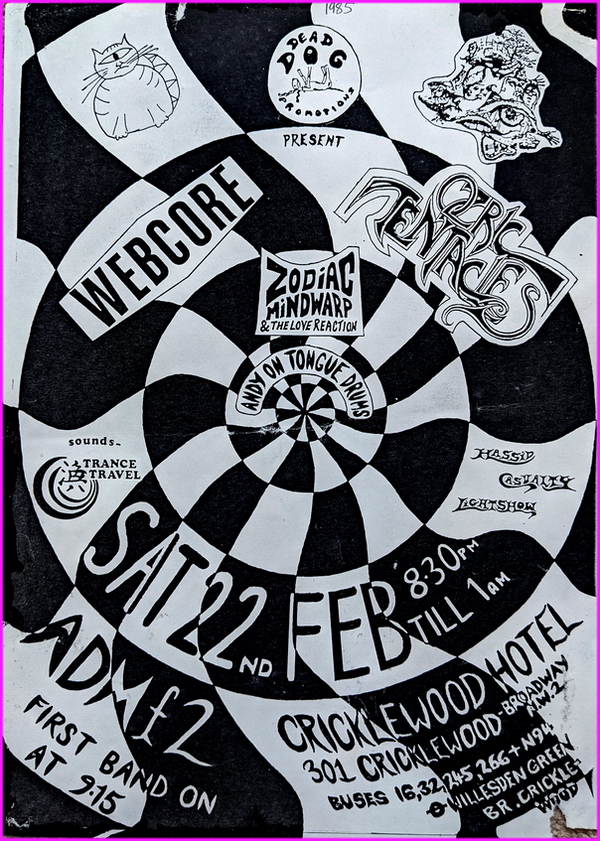 April 25th, 1986
Zodiac Mindwarp and the Love Reaction and Treatment supported by Underground Zero and Astrogone Arglegargle with sounds by Trance Travel (DJ Monkey Pilot from Whirlygig) and Hassid Casualty Light Show

( Haringey T.U. Centre, Wood Green)
May 23rd, 1986
Cardiacs supported by Out Vile Jelly and Jack of Hearts with sounds by Trance Travel and Hassid Casualty Light Show

(Haringey T.U. Centre, Wood Green)
May 31st, 1986
Treatment and Ozric Tentacles supported by Astrogone Arglegargle with films by Alan Dien (and un-billed, DJ Monkey Pilot)

(Hampstead Old Town Hall, Belsize Park)
September 1986 - Dead Dog becomes Club Dog:
The first event billed as ' Club Dog' was staged on September 26th, 1986 at Haringey T.U. Centre, Wood Green and featured Ozric Tentacles, Out Vile Jelly, Phoney American Accents, Trance Travel Sound System, Hassid Casualty Light Show and was their first attempt to really go for it as an established Club Night.
Due to a variety of issues at Haringey T.U. Centre that I won't go into detail on, in Spring of 1988 Club Dog relocated to The Sir George Robey pub in Finsbury Park, London where it stayed until around January 1994.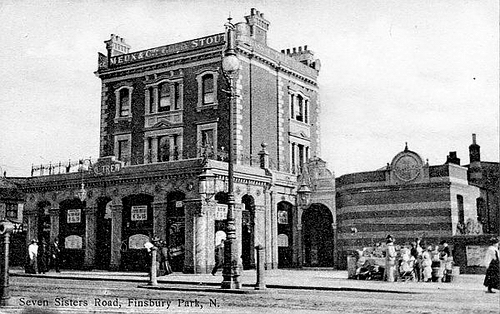 Sir George Robey
(Originally The Clarence Tavern in this pic from 1905, Copyright PubWiki/Vincent O'Loughlin)
Pooterland Memories:
I cannot remember how I even heard about Dead Dog to be honest but I have clear memories of hopping on a train to Cricklewood and going to the Cricklewood Hotel where there was an upstairs function room accessed by some (stone?) steps.

There were tealights leading up the steps, people milling around outside smoking hash and when you got to the room upstairs you we treated to a warm, smoke filled room with a Light Show (Hassid Casualty) and a Sound System (Trance Travel) who would later go onto be the Sound System at Whirl-Y-Gig).

The whole environment was like a mini Free Festival, complete with all the random stuff you would expect to see :-)

For over 30 years I (incorrectly) thought the Hassid Casualty Light Show used an old American Hearse to move their Light Show equipment around in as it was always parked at Dead Dog events and had a Hassid Casualty flyer in the rear side window and only this year (2021) did Michael 'Dog' correct me:
'The hearse that you remember actually belonged to Monkey Pilot from Whirlygig who was one of Club Dog's two resident DJ's for the first few years that we ran.

Though you may well have seen the hearse parked outside or near Club Dog venues, it would have been there because he was.
He used it to carry his decks and lighting equipment in'

(Michael Dog - January 2021)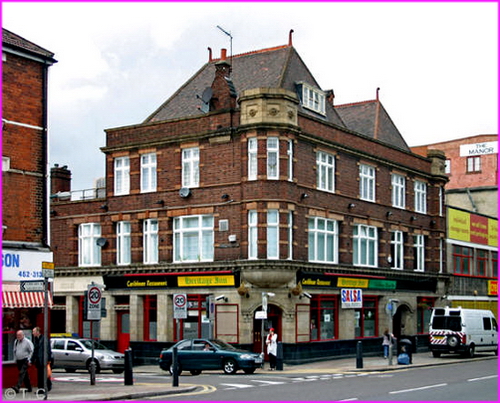 The Cricklewood Hotel (Copyright PubWiki UK)
It was at The Cricklewood Hotel that I first met the Ozric Tentacles and bought their first, Cassette only albums, also where I discovered one of my all time favourite band's Webcore.
Another (unexpected) discovery were the tongue in cheek (but brilliant) Zodiac Mindwarp & The Love Reaction who went on to find unexpected fame in the UK Top 20 with Prime Mover.

Zodiac were an amazing mash-up of Comic Book/Day-Glo/Post Apocalyptic Biker complete with WW2 Military helmets and (from memory ?) guitar straps featuing syringes instead of bullets :-)
I went to various other Dead Dog, Club Dog events ove the years as well as events elsewhere featuring the Hassid Casualty Light Show such as the Stonehenge Benefit at Hammersmith Clarendon and various Alice In Wonderland Club events.
In the very beginning the audience was comprised of Hippies, Squatters, New Age Travellers (including Drongos/Brew Crew who later caused issues at gigs), a few Punks plus all manner of random punters.
Over time the audience changed, so did the music scene and in 1994 Club Dog ended, having mutated into Mega Dog at The Rocket on Holloway Road, London which ran concurrently with Club Dog for at least 2 years prior to Club Dog's demise.

Megadog was originally intended to be a large version of Club Dog and would generally run once a month with three Club Dog nights on the other three Fridays in the month.

After the Midi Circus tour in 1993, the Club Dog nights became more infrequent before stopping totally.
By now the 'Dance Scene' was here to stay and the original Hippie/Psychedelic/Space Rock bands gave way to Dance Music being replaced by bands like Eat Static, Orbital, Underworld, Fluke, System 7, Banco De Gaia, Psychick Warriors Ov Gaia plus a host of DJ's and alongside Megadog Club nights a record label Planet Dog Records was spawned.
This period is well documented elsewhere and also not really part of what this site is about (even though I went to various Megadog events myself...)
pOoTer - January 2021
Special Thanks to Michael Dog for assistance on this page and helping my fuzzy memory :-)
Memories of Dead Dog/Club Dog:
Thanks for refreshing my memories, especially my fave Light Show at the Scala with the brilliant Bark Psychosis where I recall a Cheech & Chong flic and a fab documentary whose name I can't quite recall ; (

Thrilled to be reminded of such acts as the eccentric Dave Howard Singers, the always popular Rhytmites, the great Hassan Erraji'Arabesque, especially as I much later played percussion and Bass with an Oud maestro in Oxford (The Brickwork Lizards, an odd wondrous mix of Ink Spot + Rap in early days but much more enjoyable Arabic/Turkish styling later)

Here's a fun fact, the first Whirl-Y-Gig featured an audience of 2 people and a dog, plus me and Richard (Monkey Pilot) playing wonderful, mostly African, music!
It's kinda wonderful so many people have happy "Dog" memories, from the drummer in the Oxford band I was in from 13 years ago recalling Manchester shows to the other drummer I jammed with at the local pub here in Surbiton from 3 years ago til 'Pandemic Times' being to at least 5 shows.
I turned him onto your site so he can refresh his memory via your huge poster collection...which also refreshed mine :)

The Scala show from '90 had the great 200 Motels,by Frank Zappa (a major influence/hero even up until his bodyguard refused to let me say hello while we both were in separate studios at Advision London (he'd been pushed offstage by a female fan's jealous husband the previous year at the Rainbow....but I digress)
The Ozrics headlined that show but will try to find the twisted funny Groove Tube flic!

So the '92 BTTP+Bark Psychosis show had the trippy Monkeys 'Head'flic?

As to the Club Dog stall/Mail Order Woof Distribution which Michael created likely gave at least a small financial boost to many, from the odd fanzine brit underground comic creator (tho the famed Freak Bros were the most known) to the cassette albums of the Oroonies/Ullulators et Al.
And of course the Ozric Tentacles,who made at least 6 cassette albums (also Ed/Joie's great chillout Nodens Ictus) before the 1st vinyl!

They said later their T-shirts were the biggest sellers although the various dragon T-Sshirts also sold well.

At the height of their "Crusty" Melody Maker front page we once paid them £10k for a Brixton show!

Ah,the Academy...nearly shut til someone bought it for a quid I recall, capacity 4300 odd.

We had to pay £5K just to have the sloping floor and the seats removed/leveled for dancing !

Two other Club Dog memories...Bob the famous front of house schmooze was an excellent guitarist (had a nice Takamine gtt), a sensitive tho less confident player and Captain Beefheart fan!

Anyhow, he was a vital part of Treatment gigs, behind the mixer adding dub effects with his Roland Space Echo.

At one of the very early north London shows (Wood Green maybe?) The Treatment & Bob staged a fake hanging (only Bob had to be saved from nearly being hung for real!)
And to think I met this whole crew via Karen, who I met as a backing vocalist on a session for an eventually unsuccessful Ensign records act.

She was Paul 'Mutants' Girlfriend, he being the keyboardist from Treatment and Giant Aphid Attack. (So glad I reconnected/visited her in Bristol/Swindon recently).

Indeed I also saw former Lighting Op Quieff (still with Francis 'Martian') many times while living in Oxford.

At his 50th Birthday bash it was great to see Jonny, Rosie and Clive the sometimes stroppy fiercely independent Treatment bassist, who used to live in the famous North London squat 'The Mansion' with some some Hendon MC Bikers.
These were still times when one could get hand rolled chars in small amounts before the crimson took over the bulk of the wholesaling/importation.
Nearly forgot the MegaDog show at the Paradiso, it was nearly cancelled by Fire Marshalls who insisted the scrim nets and Saris had to withstand a lighter test of 7 seconds!

Somehow got enough retardant to soak it all and pass the test...incense barely disguised the smell.;)

Goodness, between what you have and the Andy Fyfe Cosmic Dog Review comments I made it will take a major editing feat to put together...if successful maybe you could help wtih my book Ho Ho!.
One last Club Dog tail (sic):
Club Dog did two 'unofficial' Glastonbury stages before MegaDog did the official Glastonbury dance tent.

The crew, gear and bands managed to blag/set up a stage AND have bands like Back to the Planet (BTTP), Senser, etc.

Apparently Michael Eavis saw the 2nd one and approved of the initiative/vibe. And whilst my clothes were in the van for the 2nd time, I sadly had to spend the summer at Her Majesty's Pleasure for Cannabis supply...my mouldy clothes remained in the van for ages, reckon they had fun !

Pardon any rambling...Pandemic inducing, poor sleep mean this was done at 7:30 am !!
Thanks again for your massive research/interest :-)
Bruce Douglas - March 2021
Club Dog Flyers from 1986 to 1993
1986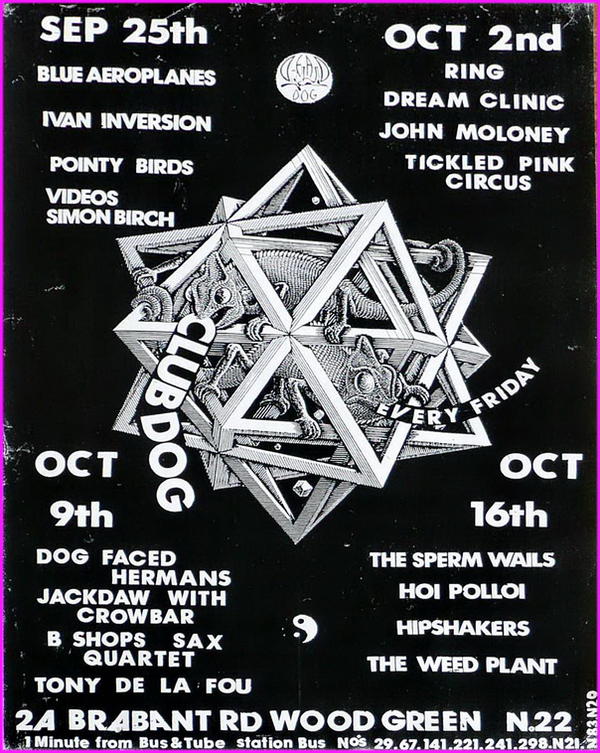 1987
1987
1988
1988
1989
1989
1989
Press Ad for the flyer above (1989)
1989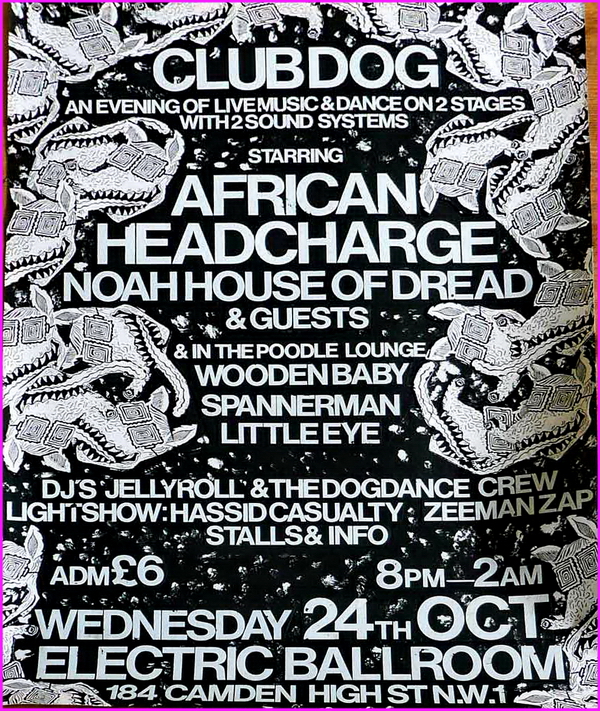 1990
1990
1990
1990
1990
Press Ad for the flyer above (1990)
1990
1991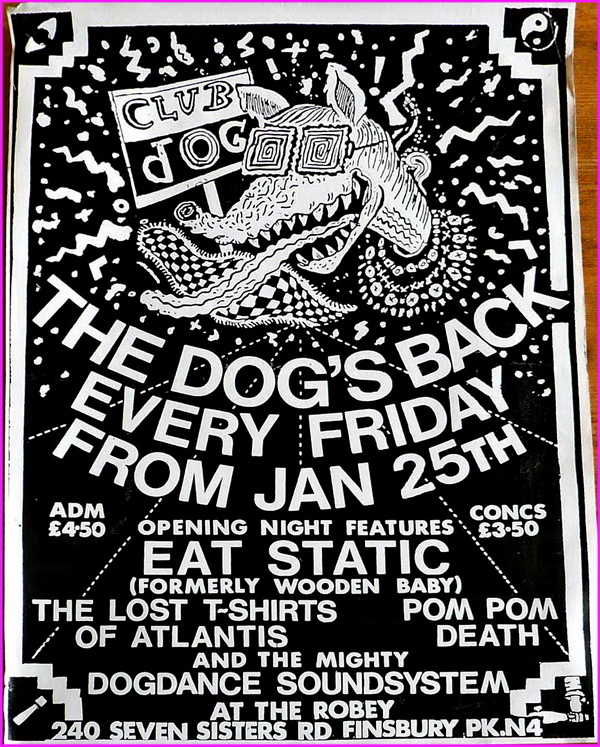 1991
1992 Megadog
1992 Megadog
1992 Megadog
1992 Megadog
1992
1992 Megadog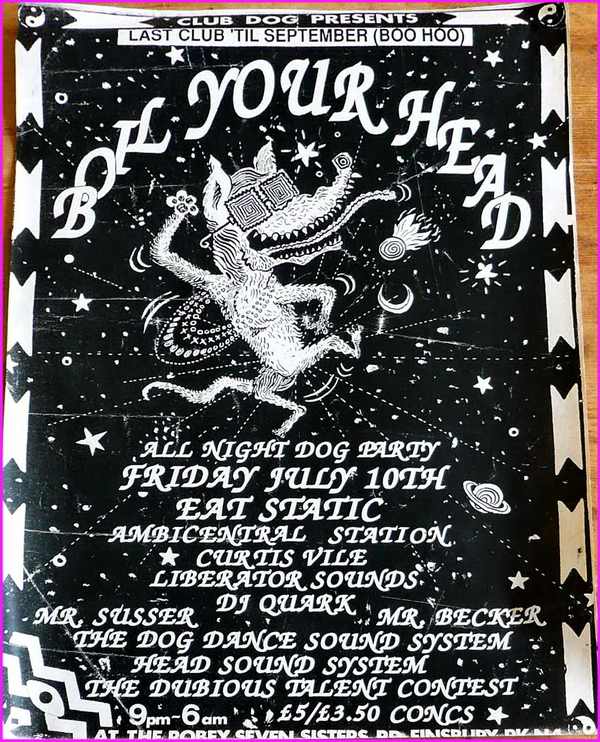 1992 Club Dog
1993 Megadog
1993 Megadog
1993 Megadog
The following flyers are from the awesome Headuster Blog
(Permission given)
October 1989 (Sir George Robey)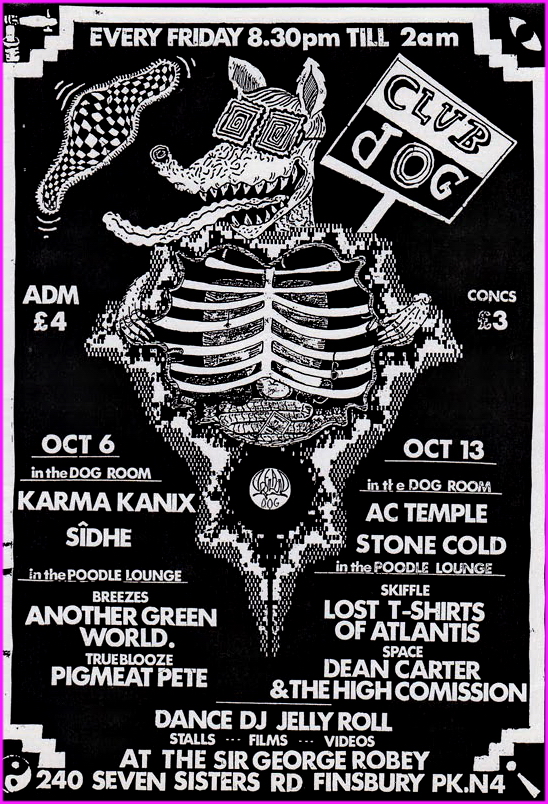 October 1989 (Sir George Robey)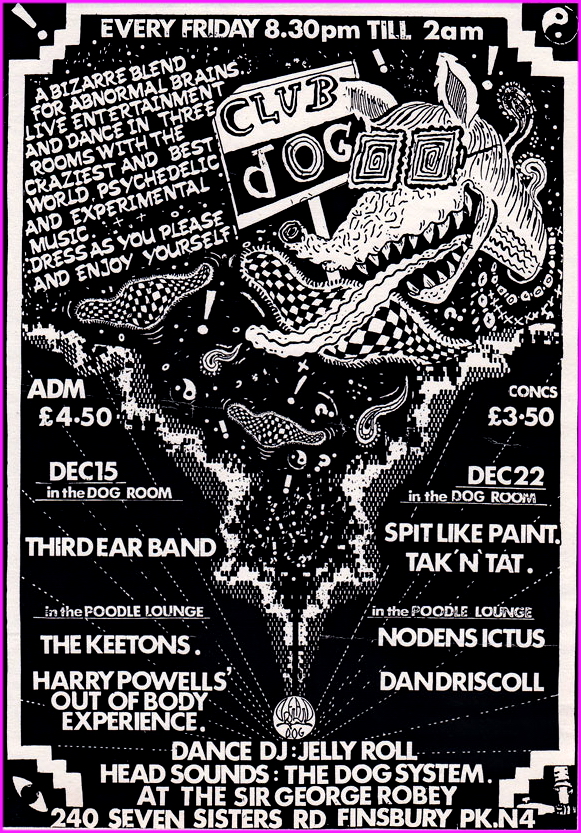 December 1989 (Sir George Robey)
Do you have any memories of Dead Dog/Club Dog?