| | |
| --- | --- |
| Compilations & Soundtracks | |
20 Great Hits from The 60's
1984
Cascade DROP 1007

Track List:

The Music Machine-Talk Talk, Naz Nomad and The Nightmares-I had Too Much To dream Last Night, Charles Christy and The Crystals-For Your Love, Jades Of Fort Worth-Sha La La La Lee, The Milkshakes-I Wanna Be Your Man, The Barbarians-Are You A Boy Or Are You A Girl?, The Bananmen-Surfin' Bird, The Radiators From Space-Try And Stop Me, Charles Christy and The Crystals-In My Room, The Bishops-I Want Candy, Clapham South Escalators-Get Me To The World On Time, The Jades Of Fort Worth-Don't Bring Me Down, The Count Bishops-Sometimes Good Guys Don't Wear White, Music Machine-96 tears, The Sting Rays-You Got A Hard Time Comin', Ian Whitcomb-You Turn Me On, The Bishops-I Take What I Want, The Jades Of Fort Worth-Little Girl, The Baloon Farm-A Question Of Tempereature, The Cannibals-Come See Me (I'm Your Man).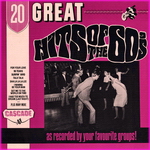 Review:

A cunningly packaged album, looking like 'just another cheesy 60's compilation' but look closer and you will see a collection of classic tunes, some by original bands, others by certain London bands going under cool pseudonyms.............buy it, it's VERY good
Reviewed by pOoTer.
All The Colours Of Darkness
1991
Bam Caruso KIRI 051
Track List:
Yellow - Living A Lie, Sharon Tandy and Fleur de Lys - Hold On, Eyes Of Blue - Prodigal Son, Jason Crest - Here We Go Round The Lemon Tree, Rick Price and Sheridan - Lamp Lighter Man, Jigsaw - Tumblin', Skip Bifferty - On Love, Methuselah - High In The Tower Of Coombe, Norman Conquest - Upside Down, Jason Crest - A Place In The Sun, Dantalion's Chariot - The Madman Running Through The Fields, Sharon Tandy and Fleur de Lys - Daughter Of The Moon, Mashmakhan - Days When We Are Free, Mike Stuart Span - Children Of Tomorrow, Serendipity - I'm Flying, Second Hand - The World Will End Yesterday.
Review:
This is number 8 in the rubble series and as far as I'm concerned this is the best I've heard so far.
Side one of the album:
It kicks of with the band Yellow who made only one single for CBS, and this track is from the B-side, "living a lie" is a stormy rocker, with heavy guitar textures and some progressive leanings. It's from 1970. Next were up for Sharon Tandy and Fleur de Lys with "Hold on", which features some great acid guitar and vocals from Sharon, great stuff. It's from 1968.
Next is the Eyes of Blue with keyboard man Phil Ryan, later of Man(!) and Neutrons(!) fame. This is Fantastic stuff, it starts out as a pop/R&B song, with a walking bass-line and transforms in some killer eastern guitar and organ workouts. Play this loud! They made two albums. Then we get a cover of "Here we go around the lemon tree" (originally by the Move) by Jason Crest, which is not really my bag, although I love their sound, and it's definitely better than the original. It's from 1968.( Listen to the song " Black mass" on rubble 4 by these same guys it's a frightening psychedelic mass, with backwards bits and tricks! I love that one!!!!)
OK, back to rubble 8! Rick price & Sheridan perform their "lamp lighter man" , and is taken from their album "This is to certify that" which is from 1970.
Time for Jigsaw with "Tumblin" a kind of psychy pop song with some phasing in the refrain, nice but not essential.

Next is Skip Biffety with "love is", which is great stuff. It's a kind of psychedelic hard rocker with great charm and a very memorable guitar riff. It's the A-side of their first single. It's from 1967 Methusalah made two albums only one was released, from which this song "high in the tower of coombe" was taken.
It's a kind of folky tune with psychedelic leanings. It's from 1969.
Side two of the album:
We kick of with Norman Conquests "upside down", the b-side of their only single, they later became Peter and the wolves.
It has a typical 1967 feel and has its charm, probably nice to hear once a year.
Jason crest are looking for "a place in the sun"on this one, with some great vocals, and good use of the mellotron. (It's the B-side of their "black mass" single!) It's from 1969.
Love the next one, Dantalion's Chariot with" the madman running through the fields" with backwards drumming in places, eastern sounding melodies, a little bit of flute, and a great vocal melody, with Andy Somers on guitar. It's from 1967.
Here they are again Sharon Tandy, and Fleur de Lys with "daughter of the sun". Sharon Tandy was a South African singer who the Fleur de Lys backed on studio and live work. According to the sleeve it's called "daughter of the moon" but that doesn't spoils the musical fun on this one, my favourite track, although I think I got a different mix of the same song some where on a various artists album.( I 'll have to look that up, though) it's from 1968.
Next, from Canada is Mashmakhan with "days when we are free", I love this one, it's got a real summer vibe to it, Groovy piano playing great guitar work with some catchy solo's, and some nice harmony vocals, play loud!!!.
From Brighton the Mike Stuart Span are kicking of with "children of the tomorrow" which is a real psychedelic guitar acid-fest. Great stuff ! It's from 1968. . Next, Serendipity, they made only two singles which are quite collectable , "I'm flying" is quite forgettable to my ears. It's from 1968.
The last song on the album is by Second Hand with "the world will end yesterday" and is taken from there first album (Masterpiece!!!!!)(And don't forget there second album "Death may be your Santa Claus", with a slightly different line-up) a great way to end this album in a truly psychedelic style!
Play very loud!!!
Reviewed by Joël van Roode (Feed your head with music!) - June 2002
Colour Me Pop Vol.2
Flashback Productions – FBCD06
2003
Track List:
The Mirror - Gingerbread Man / Jigsaw - Lollipop And Goody Man / The Mindbenders - The Man Who Loved Trees / Double Feature - Just Another Lonely Night / Jackie Lomax - One Minute Woman / Sounds Around - Red, White And You / The Gods - Baby's Rich / JohnBromley - Melody Fayre / The Twilights - What's Wrong With the Way I Live / Circus - Sink Or Swim / Simon Dupree & The Big Sound - Day Time, Night Time / The Herd - I Can Fly / Graham Gouldman - Upstairs Downstairs / Katch 22 - While We're Still Friends / The Bunch - Birthday / Happy Magazine - Who belongs To You / The Young Idea - Room With A View / Manfred Man - Machines / The Snappers - Upside Down, Inside Out / Kippington Lidge - Tomorrow Today / Crocheted Doughnut Ring - Maxine's Parlour / Grapefruit - Round Going Round / The Elastic Band - Think of You Baby / The Nite People - Weird And Fubnny / The Onyx - Time Off / Steve & Stevie - Merry-Go-Round.
Review:
More poptasitc dancefloor fillers on Vol.2 of this must-have series. Blue-eyed club-soulful pounders and toy-town pop pleasers abound on this comp in equal measure. There are some beautiful finds such as The Mindbenders 'The Man Who Loved Trees', The Elastic Band's 'Think Of You Baby', The Mirror's 'Gingerbread Man' and Jigsaw's soulful 'Lollipop And Goody Man' amongst them. I've had the Snappers 'Upside Down, Inside Out' on a DVD of 'Beat Club' for some time, but now I can add the actual 45 for CD enjoyment, a great pop pleaser. Graham Gouldman never fails to please and his 'Upstairs, Downstairs' is as good as he gets, with a tale of a shy boy and girl. Manfred Man's 1966 'Machines' is a great find, and sounds a year ahead of its time, pop with oncoming sike. Jackie Lomax's take on the Gibb Brothers 'One Minute Woman' is a nicely spirited version as is blue-eyed soulsters Double Feature's 'Just Another Lonely Night'.
Circus's 'Sink or Swim' has a certain Alan Bown-ishness about it which is very pleasant. John Pantry surfaces in Sounds Around's 'Red White And Blue' which manages to be both toy-town whimsy and power pop at the same time! He turns up again in The Bunch's 'Birthday' another winner. Young Idea's 'Room With A View' is a lovely example of the many vocal duo's of the time (check out their sole LP on MFP in the UK if you like this, the whole album is excellent pop).
Basically, if you have a disposition for the classier pop side of the sixties, you can't afford to be without this comp. Colourfully packaged and presented, it is a jewel of collection where the compiler has paid attention to not duplicating what's already out there. From the same label that brings you the Jagged Time Lapse series (Vol.5 of which is just a couple of months away), Flashback Productions is a hallmark of collector comp quality, this should be doing heavy rotation on your CD player!
Submitted by Paul Martin - August 2003
Deviation Street: High Times In Ladbroke Grove – 1967-1975
2023
Cherry Red
Track List:
Disc One (Getting It Straight In Notting Hill Gate)
Notting Hill Gate (Single Version) - Quintessence, Hurry On Sundown - Hawkwind Zoo, Blind To Your Light - Carol Grimes & Delivery, Hallucinations - Tomorrow, Black Leather Gloves - Bodast, Subway (Smokey Pokey World) - The Tickle, Long Time Coming - Village, Painted Lady - Cochise, Cold Embrace - Sam Gopal, I'm A Stranger - The Action, Living In Sin - Skin Alley, Changes - Mataya, Sickle Clowns - The Pretty Things, Song For Lots - Family, Galactic Zoo - Kingdom Come, Powis Square Child - Roger Bunn, The Answer - Peter Bardens, Looking For Time - Bond And Brown, Which Dreamed It - Boeing Duveen & The Beautiful Soup, Out Demons Out - Edgar Broughton Band
Disc Two (Breezing Down Portobello Road)
All In Your Mind (Single Version) - Stray, Blankman Cries Again - High Tide, Turn Around - Steamhammer, Afta - Davey Graham & Holly, Slipstreams - Mighty Baby, Sun Music - Skin Alley, Glad I Came Around - Quiver, A Mind Blown Is A Mind Shown - Hapshash And The Coloured Coat, We Took The Wrong Step Years Ago - Hawkwind, Slum Lord - The Deviants, Notting Hill Eviction Blues - Ram John Holder, Concrete Line Up - Ron Geesin, Sad Song For Winter - Chimera, Velvet To Atone - Trader Horne, April Affair - G. F. Fitzgerald, Rings Of Fortune - Tyrannosaurus Rex, My Mind - The Misunderstood, If - Rosemary, Uncle Harry's Last Freak-Out - Pink Fairies.
Disc Three (Way Down In The Grove)
Circus Days (Single Version) - Junior's Eyes, Nothing Special - Trees, 10,000 Words In A Cardboard Box - The Aquarian Age, Cosmic Surfer - Quintessence, The System - Noir, Very Fine...Far Away - Third Ear Band, Still Yawning, Still-Born - Shagrat, 2hb (Demo Version) - Roxy Music, One Hand Clapping - Rosemary, Old Hat - Uncle Dog, Summertime Blues - Mick Farren, The Right Stuff - Robert Calvert, Kings Of Speed - Michael Moorcock & Deep Fix, Lost Johnny - Motörhead, Silent Telephone - The 101'Ers, I'm A Free Man - Mataya, Ladbroke Grove Blues - Ram John Holder, Witchdoctor - Ginger Johnson & His African Messengers, Deviation Street - The Deviants.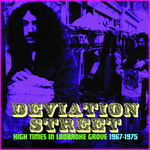 Review:
If Kings Road, Chelsea and Carnaby Street were home to 'The Beautiful People' surrounded by 'Flowers and Butterflies' in the Summer Of Love then Ladbroke Grove was the seedy, Slum Underbelly full of squats and cheap housing many of which were owned by a notoriously shady Landlord named Peter Rachman.
Sick of politicians
Harassment and laws
All we do is get screwed up
By other people's flaws
World turned upside down now
Nothing else to do
Live in concrete jungles
House block seven view
And that ain't no joke
You could disappear in smoke
And that ain't no joke
You could disappear in smoke
I'm tellin' you that it ain't no joke
Powis Square, Powis Gardens, Oxford Gardens, Westbourne Grove, Notting Hill, Ladbroke Grove, Colville Road etc. were an edgy mix of Carribean and Irish Immigrants plus a rapidly expanding mass of Middle Class Hippies creating an Mecca for Socio Political Agitators, Anarchists, Miscreants, Musicians, Artists, Drug Dealers and a whole host of Anti Establishment types.
The area spawned bands such as Hawkwind, Tyrannosaurus Rex, The Deviants, Pink Fairies, Edgar Broughton Band, Shagrat, all of whom are included on this excellent compilation alongisde several other bands you might not expect to see sharing space with them such as The Action and Roxy Music (who started out life rehearsing in a squat off Portobello Road).
There are a mixture of well known tracks (many of which are different/more interesting versions) interspersed with obscurities/lesser known bands which makes for a great listen and it's very obvious how much care has been taken in the order of the tracks as they flow brilliantly throughout which really 'take you back' to The Grove...
Musically there is Psychedelia, Progressive/Space Rock, Blues, Proto Punk, Hard Rock and the clamshell packaging leaves space for some superb artwork including a great 48-page booklet with stories and anecdotes from all the included bands as well as a great historical narrative of the area.
I have fond memories of visiting the area in the 1980's but even then much of the above had started to fade and these days this entire area is unrecognisable, the Slums have been cleared and to buy a house on Ladbroke Grove/Westbourne Grove now you would need between £5,000,000 and £15,000,000, plus you can no longer buy a Bacon Roll from The Mountain Grill...
Get yourself a copy now - https://www.cherryred.co.uk/product/deviation-street-high-times-in-ladbroke-grove-1967-1975-3cd-box-set/


Reviewed by pOoTer - April 2023
Fading Yellow Vol. 1 - Timeless Pop-Sike & Other Delights 1965-1969
2002
Flower Machine Records
Track List:
Kate- Strange Girl, Dean Ford & The Gaylords-That Lonely Felling, Eddy Howell-Easy Street, Mike Batt-Fading Yellow, Steff Sulke-Oh What A Lovely day, John Williams-Flowers in Your Hair, The Zephyrs-I Just Can't Take It, Jon-Is It Love?, Koobas-Woe Is Love My Dear, The Orange Bicycle-Competition, The Gremlins-The Only Thing On My Mind, Quintin E. Klopjaeger & The Gonks-The Long Way Home, Sun Dragon-Far Away Mountain, Juan & Junior-Andurina, Hamlet-She Won't See The Light, Paul & Barry Ryan-Madrigal, Phil Cordell-Red Lady, Ronnie Bird-Sad Soul, Ronnie Bird-Raining In The City, Elliots Sunshine-'Cos I'm Lonely, Peter Janes-Do You Believe (Love Is Built On A Dream), The Bliss-Lifetime, The Jackpots-King Of The World, Members Of Time-Dreamin', Aerovons-World Of You.
Review:
Assembled herein on Fading Yellow's first volume of "Timeless Pop-Sike" is an esoteric collection of the slushier side of psychedelia. In fact, I'm not even sure if some of these songs can even be thrown into the psych genre. The artists are for the most part long forgotten. Yes, of course there are some heavyweights here, bands such as the Koobas who released a rare but mighty fine album back in '69, Dean Ford in his pre-Marmalade days, and even Kate who can boast an ex-Pretty Thing (Viv Prince) as one of its members. Perhaps however, the artist that best sums up this collection of lounge-psych acts is Mr. Mike Batt. At first glance his CV reads impressive enough, he produced the Groundhogs first album, he also helped form Hapshash and The Coloured Coat. However, on further inspection this is also THE Mike Batt who inflicted the Wombles on to an unsuspecting nation. To me that says it all. At its very core this is mainstream pop flirting on the edges of psychedelia.
Tight harmonies exist throughout most of the tracks, and it is heavily orchestrated in places. But the reality is this is a collection of undistinguished songs that at its best is quasi-psychedelic. On this first volume most of the bands or artists hail from the UK, and there is also a couple from Europe and one American act. If you love this sort of thing, then you will no doubt salute Fading Yellow for releasing these rare tracks, however don't expect some long lost psychedelic classic amongst these grooves. This is more easy listening then acid freak-out.
Fans of this sort of thing will delight in knowing that there is plenty more to come, in fact as I write Fading Yellow has released Vol. 2 and Vol. 3 which focuses mainly on obscure US pop-psych.
Reviewed by: BlueMagoo - April 2003
Hallucinations: Psychedelic Pop Nuggets From The WEA Vaults
2004
Rhino Handmade (CD numbered edition of 7,500)
Track List:
Baker Knight & The Knightmares - Hallucinations / The Misty Wizards - It's Love / The Next Exit - Break Away / The Collectors - Looking At A Baby / Adrian pride - Her Name Is Melody / The Association - Pandora's Golden Heebie-Jeebies / The World Column - Lantern Gospel / Tom Northcott - Who Planted Thorns In Miss Alice's Garden / John Wonderling - Man of Straw / Ellen Margulies - The White Pony / Jeff Thomas - Straigh Aero / MC2 - My Mind Goes High / Bras Buttons - Hell Will Take Care Of Her / The Salt - Lucifer / Kim Fowley - Strangers From The Sky / The Electric Prnes - Antiqe Doll / The Boniwell Music Machine - Astrologically Incompatable / The Tokens - How Nice? / The Coronados - Your Love Belongs To Everyone / Lee Mallory - That's The way It's Gonna Be / The Glass Family - House Of Glass / The Holy Mackerel - Wildflowers / The Momkees - Porpoise Song / The West Coast Poop Art Experimental Band - Smell Of Incense.

Review:
For anyone who has already one or the other of Rhino's Nuggets CD box sets, Halllucinations can be regarded as stand-alone additions to them. The glossy liner booklets are choc full of pics (colour and b/w) of each band along with synoptic band biogs, like mini-versions of the long-box set booklets.
The thick card digi-pack presentation also features a nifty revolving plastic purple wheel with a a kaleidoscopic effect when you revolve it behind the op-art sleeve pic of the girl's face. The CD label is a repro of the old Warners gold label which is also good on the eye. So very nice to look at and cool to casually leave on the coffee table when friends come round so they can see how hip you are!
As for the sounds encrypted on the disc, they are a joy. It depends of course on the size and diversity of your CD / record collection as to how many of these little gems you may actually need, but of the 24, I found around two thirds I hadn't come across yet. And of course where there is duplication, the Rhino version nearly always represents an upgrade, all being from master tapes. There are also other minor incentives. Music Machine's 'Astrologically Incompatible' may be available on the Sundazed anthology of their Warners material, but here it is presented for the first time in mono. Similarly, The Monkees 'Porpoise Song' may be familiar enough to many, but here: 'the version featured on this collection is the original, long mono-single mix which has heretofore been unavailable on CD'. Upgrades and minor jollies aside, there are some excellent and obscure tunes on this set.
Former 50s rockabillies 'Baker Knight & The Knightmares' opener and collection title, 'Hallucinations' (Baker-Knight was author of Rickie Nelson's 'Lonesome Town') is a US popsike gem, all wobbly effected chorus vocal and period embellishments. Canadian Tom Northcott (check his version of 'Blackberry Way' on Pop In Vol.3) contributes his original version of 'Who Planted Thorns In Miss Alice's Garden' (a much better version than the more familiar cod reggae cover by The Explosive as featured on The Electric Lemonade Acid Test Vol.1 LP). There's stuff you're gonna have of course like Kim Fowley's 'Strangers From The Sky' and The Electric Prunes 'Antique Doll', but you're not likely to have heard the '66 pop wobbler delight that is Adrian Pride's 'Her Name Is Melody' The folky pop stylings of Ellen Margulies's 'White Pony' or the out of phase (and character apparently) pop pleaser that is Jeff Thomas's 'Straight Aero'.
This is sumptuous little package with many new gems and surprises and well worth adding to the CD shelf (or the coffee table!)
Submitted by Paul Martin August 2003
International League of Telepathic Explorers
2002
Free City Media FRCD003
Track List:
Aquarium Poppers - Magic Luxury, Nick Benson - Never Coming Down, The Bevis Frond - Being You, Bitter Little Cider Apples - Crocodile Head, Thebrotheregg - Mercury Retrograde, Dipsomaniacs - How To Fall, Dunlavy - The Guest, Lucky Bishops - Silent Car, Lucky Bishops - Animal Kingdom, Mandra Gora Lightshow Society - Horse Race On a Rollercoaster, The Minders - Someday Soon, Motorpsycho - Go To California, Photon Band - Magic Lantern (Triviality), Polar Arc - The Bride Of Completion, The Sand Pebbles - My Sensation, Adrian Shaw - Symbiosis (remix), 33 Tiger Infinity - Everything Is Everything.
Review:
First compilation release from San Francisco's Free City Media as a benefit for their online magazine and label, featuring relatively global coverage from a selection of independant contemporary psych artists.
What you get for your cash is 17 tracks from 16 bands, some of which are established names and others are talented up and coming newcomers. From Australia, The Sand Pebbles with a track from their forthcoming album on Camera Obscura. From England a previously unreleased track from Bevis Frond, Bitter Little Cider Apples with a track from their forthcoming debut album, The Lucky Bishops with 2 previously unreleased tracks and Woronzow head honcho Adrian Shaw with a remixed track from the Head Cleaner album. From Germany comes the mushroom chomping trip meisters Mandra Gora Lightshow Society, Norway is represented by Motorpsycho with an alternate verion of an album track, Pooterland faves Dipsomaniacs with an unreleased track and Aquarium Poppers with a tune from last year's Recomander Tunes EP. Four American bands, thebrotheregg (unreleased), Dunlavy (unreleased), The Photon Band (unreleased) and The Minders (unreleased). Finally there are three bands on the Free City Media label itself, namely Nick Benson, Polar Arc and 33 Tiger Infinity all with previously unreleased tracks.
If you play this end to end it does come off very well and there are some superb tracks here, Dispomaniacs goes without saying (but I am biased) and The Lucky Bishops endearing brand of psycho pop and the one that realy got me was Dunlavy, way too short but what a killer track! That's a band I shall be digging around for more material from. Overall a fine selection of today's independant psych talent and a worthy addition to your collection. If you dig Giampero's Floralia comps then this will rock you out...

Reviewed by pOoTer - November 2002
Love, Peace & Poetry - Vol. 1 - American Psychedelic Music

1997
Q.D.K. Media CD-021
Track List:
DARIUS - Shades of Blue, NEW TWEEDY BROTHERS! - Danny's Song, ARCESIA - White Panther, VICTORIA - Ride A Rainbow, DAMON - Song of a Gypsy, JUNGLE - Slave Ship, HUNGER - Colors, TRIZO 50 - Graveyard, MUSIC EMPORIUM - Nam Myo Renge Kyo, BRAIN POLICE - I'll Be On The inside, If I Can, MICHAEL ANGELO - Oceans of Fantasy, ZERFAS - I Need It Higher, LAZY SMOKE - There Was a Time, HICKORY WIND - Mister Man, NEW DAWN - Dark Thoughts, SIDETRACK - Wild Eyes, PATRON SAINTS - Reflections On A Warm Day.
Review:
Most of the bands featured on the Love, Peace & Poetry compilations were one-off bands who only made one record and then went back to flipping burgers. Some bands went on to make more music elsewhere, but never quite made it as a career. Like the Nuggets, Pebbles and the Rubble series, these wonderful compilations put together the rarest records ever to be pressed, and are easily available to the poor man who can't dish out hundreds of dollars for a record.
These cds are not listed as volumes. But instead they're compiled together by nationality. "American Psychedelic Music" is the least entertaining of the five. Like typical American psychedelia they contain long jams containing fuzz-guitar and squealing organs. Not much pop here, but a few stand-outs. "Mister Man" by Hickory Wind is a lovely prayer-ballad with hilariously outdated pleas of peace. "I'll Be On the Inside If I Can" by the Brain Police is a neat piece of catchy pop-sike.
There are some bad tunes, but the quality of these rarities is amazingly great. This compilation was not rushed. There's also some short but sweet liner notes on the bands and an odd cover series of some sexy california model in her underwear.
Reviewed by Egg Jayson Kohl - Music fan only, not a pro. =) - 20th Sept 2002
Love, Peace & Poetry - Vol. 2 - Latin American Psychedelic Music
1997
Q.D.K. Media CD-022
Track List:
ALMENDRA - Trema De Pototo, LAGHONIA - Someday, TRAFFIC SOUND - I'm So Glad, KALEIDOSCOPE - Colours, WE ALL TOGETHER - Tomorrow, LOS GATOS - Cuando Llegue El Ano 2000, KISSING SPELL - Yellow Moon, TRAFFIC SOUND - Virgin, ALMENDRA - Obertura, LAGHONIA - Trouble Child, LOS MAC'S - El Evangelio De La Gente Sola, LOS VIDRIOS QUEBRADOS - Oscar Wilde, SOM IMAGINARIO - Super-God, LADIES W.C. - People, MODULO 1000 - Lem . Ed . Ecalg, LOS MAC'S - Degrees, THE (ST. THOMAS) PEPPER SMELTER - Betty Boom-Little Monster-Doggie And Peggie At The Witches Castle, DUG DUG'S - It's Over.
Review:
"Latin American Psychedelic Music" is possibly one of the greatest compilations available for the psychedelic music fan. It is full of the greatest Latin American bands who never quite made it up North in the State Unlike the American Love, Peace & Poetry cd, these songs were taken from full length albums. All the greatest bands from Peru, Argentina, Mexico, Chile and Brazil (missing Os Mutantes) are here! Los Mac's, Los Vidrios Quebrados, Almendra and the Mexican Kaleidoscope (to add to the band name list) all made some delicious pop psychedelia. This collection is a must-have for anyone looking for a "sample" of Latin American psychedelia!!
Reviewed by Egg Jayson Kohl - Music fan only, not a pro. =) - 20th Sept 2002

Love, Peace & Poetry - Vol 3 Asian Psychedelic Music
2000
Q.D.K. CD-029
Track List:
TEDDY ROBIN & THE PLAYBOYS - Magic Colours, ERKIN KORAY - Istemem, SAN UL LIM - It Was Probably Late Summer, JUSTIN HEATHCLIFF - You Know What I Mean, BARIS MANCO - Derule, COMBODIAN ROCKS - A2, THE MOPS - Blind Bird, YUYA UCHIDA & THE FLOWERS - Greasy Heart, 3 HUR-EL - Gonul Sabreyle Sabreyle, THE FENTONES - Simla Beat Theme, MOGOLLAR - Katip Arzvhalim Yaz Yare Boyle, CONFUSIONS - Voice From The Inner Soul, THE QUEST - 26 Miles, JUNG HYUN & THE MEN - Korean Titel A2.
Review:
"Asian Psychedelic Rock" is a mixture of psychedelia from Turkey, Korea, Cambodia, India and other Asian countries....even Singapore! Quite a mix of songs here, some are very freak-out, some very mild and melodic. Not as exciting as volumes 2 and 4, but definitely interesting. The Fentones psychedelic jam is the stand-out, for those who like bizzare musicianship.

It includes one song by Japan's The Mops, who appeared on Nuggets2 and also on volume four of this series. Great collection of songs, though it could have been stretched out larger, maybe one set of Turkey, one set of Cambodia would have been better.
For those who enjoy volume 4 of the Love Peace & Poetry Cds will be pleased.
Reviewed by Egg Jayson Kohl - Music fan only, not a pro. =) - 20th Sept 2002
Love, Peace & Poetry - Vol 4 Japanese Psychedelic Music
2001
Q.D.K. Media CD-040
Track List:
THE HAPPENINGS FOUR - Happenings Theme, FOODBRAIN - Liver Juice Vending Machine, APRYL FOOL - Tomorrow's Child, SPEED, GLUE, & SHINKI - Run and Hide, YUYA UCHIDA & THE FLOWERS - Hidariashi No Otoko, BLUES CREATION - Brane Baster, SHINKI CHEN - Freedom Of A Mad Paper Latern, JACKS - Gloomy Flower, TOKEDASHITA GARASUBAKO - Kimi Ha Darenada, JUSTIN HEATHCLIFF - You All Should Think More, SPEED, GLUE & SHINKI - Keep it Cool, APRYL FOOL - The Mother Land (Part 1), MASAHIKO SATO & SOUND BREAKERS - A White Dove in Disguise, KUNI KAWACHI & FRIENDS - Kirkyogen, THE MOPS - Asamade Matenai, BEAVERS - Koishite Aishite, THE HAPPENINGS FOUR - I Want You.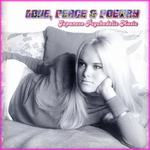 Review:
"Japanese Psychedelic Music" is an insane mix of completely freak-out, bizzare noise made by some insane musicians of the 60s! Get ready, Apryl Fool and Foodbrain take you on a trip you'll never forget. It will even scare you, or scar you for life. Never has psychedelia sounded so out-of-control. From the light melodies from the Happenings Four to the eardrum blistering guitars from Blues Creation, this set of psychedelia will forever numb your brain.
Good luck trying to find this amazing music anywhere else.
Reviewed by Egg Jayson Kohl - Music fan only, not a pro. =) - 20th Sept 2002
Love, Peace & Poetry - Vol 5 British Psychedelic Music
2001
Q.D.K. Media CD-041
Track List:
RED DIRT - Memories, GARY WALKER & THE RAIN - Magazine Woman, ANDWELLA'S DREAM - Felix, DARK - Maypole, DOGFEET - Now I Know, TONY, CARO & JOHN - There Are No Greater heroes, PUSSY - Comets, CANDIDA PAX - Reach Out, MARK FRY - Mandolin Man, MOTHERLIGHT - On A Leadow-Lea, LIGHTYEARS AWAY (ASTRAL NAVIGATIONS) - Yesterday, BODKIN - Three Days After Death Pt. 1, FOREVER AMBER - The Dreamer Flies Back, OLIVER - Telephone, PARAMETER - Harvington Hall.
Review:
"British Psychedelic Music" is a nice compilation of hard-to-find British pop-sike classics. Not as rare as the other volumes, but a nice collection of better known (maybe?) bands like Pussy, Adwella's Dream, Oliver and Forever Amber. Not the easiest songs to find from these artists, though. It's worth having to complete the set and of course for the wonderful songs like "Felix" by Andwella's Dream, "On a Meadow-Lea" by Motherlight, and the insane theremin soaked nightmare "Comets" by Pussy. Overall....Love, Peace & Poetry is a great set to fulfill the traveling ears of Pebbles and Rubble
fans.
Now, we'll just have to wait for a volume 6.
Reviewed by Egg Jayson Kohl Music fan only, not a pro. =) - 20th Sept 2002
Nuggets (Original Artyfacts From The First Psychedelic Era 1965-1968)
1972
Sire SASH 3716
Track List:
The Electric Prunes-I had Too Much To Dream Last Night, The Standells-Dirty Water, The Strangeloves-Night Time, The Knickerbockers-Lies, The Vagrants-Respect, Mouse-A Public Execution, The Blues Project-No Time Like The Right Time, The Shadows Of Knight-Oh Yeah, The Seeds-Pushin' Too Hard, The Leaves-Hey Joe, Michael and The Messengers-Just Like Romeo and Juliet, The Cryan Shames-Sugar and Spice, The Amboy Dukes-Baby Please Don't Go, The Blues Magoos-Tobacco Road, Chocolate Watch Band-Let's Talk About Girls, The Mojo Men-Sit Down I Think I Love You, The Third Rail-Run Run Run, Sagittarius-My World Fell Down, Nazz-Open My Eyes, The Premiers-Farmer John, The Magic Mushrooms-It's A Happening.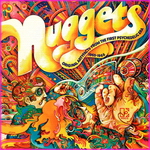 Review:
The Comp that launched a thousand compilation LP's and inspired so many bands to form and go into the studio, Lenny Kaye you don't know what you started!!!. The first and some say the best, these Nuggets truly are golden. TBC
Reviewed by pOoTer.
Oil Emulsion Slyde vs. The Fairy Feller's Master Stroke - Hens Teeth Volume 1
1995
Hens Teeth HEN01 CD
Track List:
David - Light Of Your Mind, The Matadors - Get Down From The Tree, Alan Avon & The Toyshop - A Night To Remember, Svensk - Getting Old, Junior's Eyes - Black Snake, Enough's Enough - Please Remember, The State Of Mickey & Tommy - I Know What I Would Do, The Blue Jeans - Sandfly, Giorgio & Marco's Men - Baby I Need You, The Hi-Fi's - Tread Softly For The Sleepers, Gibsons - City Life, The Kinetic - Suddenly Tomorrow, Glass Opening - Does It Really Matter?, Freedom - Trying To Get A Glimpse Of You, Edwick Rumbold - Boggle Woggle, Wheels Of Time - 1984, Virgin Sleep - Halliford House, Mandrake - Sunlight Glide, The Executives - Moving In A Circle, John Carter & Russ Alquist - The Laughing Man, The Favourite Sons - Walking Walking Walking, Tangerine Peel - Trapped, Motivation - Little Man, The Tickle - Good Evening, Enough's Enough - Look Around You Baby, Kirkbys - It's A Crime.
Pop In Vol.1 - Choice cuts from the other side of mainstream pop 1966-70
19?
Elevator Pop CDR (Unofficial)
Track List:
GRAPEFRUIT - Elevator, PLASTIC PENNY - Your Way To Tell Me To Go, THE MINDBENDERS - Uncle Joe The Ice Cream Man, LOVE AFFAIR - Lincoln County, THE CASUALS - Caroline, THE BEE GEES - Sir Geoffrey Saved The World, PAUL & BARRY RYAN - Keep It Out Of Sight, DAVE DEE, DOZY, BEAKY, MICK & TITCH - Still Life, THE MIRAGE - Mystery Lady, THE MERSEYS - So Sad About Us, THE PICADILLY LINE - At The Third stroke, WARM SOUNDS - Birds And Bees, THE BLUE JEANS - Hey Mrs. Housewife, GERRY MARSDEN - Gilbert Green, THE HERD - Miss Jones, WAYNE FONTANA - The Words Of Bartholomew, GRAHAM GOULDMAN - Bus Stop, THE NERVE - Satisfying Kind, THE IVEYS - And Her Daddy's a Millionaire, CAT STEVENS - A Bad Night, LOCOMOTIVE - Roll Over Mary, AMEN CORNER - Run Run Run, THE ALAN BOWN! - Technicoloured Dream, KIPPINGTON LODGE - Shy Boy, TONY HAZZARD - Fade Away Maureen.
Review:
The subtitle to this collection may just be the most accurate description of a compilation's contents ever. Being comprised of alternative pop, tinged (sometimes heavily infected), with baroque string orchestrations, horn led pop soul inflections, and (here and there) wobbly phasing.
Pop In 1 is a class act throughout. There are a few cuts that will probably be familiar (e.g. Grapefruit, Warm Sounds, The Herd, The Nerve, The Alan Bown! and Kippington Lodge) but even so in some instances (e.g. Grapefruit, The Herd), taken from the 45s, the versions presented here run slightly differently to previously comped versions.
That apart, this is overwhelmingly a delightful cornucopia of new finds comprised of obscure B and sank-without-a-trace A sides, plus the occasional album track, principally from 1967-8. The theme of course is pop, but there are all manner of derivations of the genre here ranging from the delightful toy town pop of the Graham Gouldman era Mindbenders (their final A side from 68) to the orchestrated stylings of the Mersey's take on So Sad About Us (which predates the Who's release). Solid guitar led pop-rock can be found in Plastic Penny's strong, moody Your Way To Tell Me Go, The Nerve's Satisfying Kind and Dave Dee & Co's Still Life for instance.
Lysergic, dreamy pop-psych stylings come courtesy of Wayne Fontana's The Words of Bartholomew and The Alan Bown's Technicolour Dream whilst baroque pop pleasers come in the form of The Bee Gees Sir Geoffrey Saved The World, Graham Gouldman's solo take on the Hollies Bus Stop and even a lightly prog influenced pop ballad in Locomotive's Roll Over Mary. Additionally, there are some real surprises such as Gerry Marsden sans Pacemakers dipping into the pop whimsy pond with an unreleased Bee Gees number Sydney Green and a hitherto unheard (by me anyway) Mirage track, Mystery Lady, which
does not feature on their You Can't Be Serious CD anthology, and which turns out to be an uncharacteristically and upbeat bubblegum pop pleaser.
Add the quirkiness of such tracks as the excellent and elusive B side to the Ivey's only UK 45 'And Her Daddy's A Millionaire' and you have a pallet as varied and appealing as you could wish for within the late 60s pop underground.

For 60s pop and pop-psych fans of all hues, this is a must!
Submitted by PM - January 2003
Psychedelia Volume Four: The Great Rameses In His Egyptian Temple Of Mysteries
199?
Tiny Alice Records TA004
Track List:
Side A:
Tales of Justine - Sitting on a bluestone, Difference - Sweet sounds everywhere, Nimrod - Don't let it get the best of you, Blue Effect - Sun is so bright, The Scene - Scenes(from another world), White Trash - Illusions, Unknown group - Out of my mind (over you)
Sibe B:
Flames - Mod trad, Nasville Teens - I'm a lonely one, Mirage - I see the rain, Matadors - Don't bother me, Unknown group - Mr.Paradise, George Beam - Floatin', Majority - Time machine man.
Review:
A strange compilation album graced with psychy tunes from all over the world. It has a nice informative booklet too. The album was pressed in Italy.
Side A of the album:
So here we go! We kick of with Tales of Justine doing their "Sitting on a bluestone". It's starts with an eastern sounding melody, than a hypnotic like vocal part comes in, this is all filled in with some eastern guitar licks and solo's. They made a rare single "Albert/Monday morning" on the HMV label in 1967. Produced by Tim Rice and Andrew Lloyd-Weber. Good one! But what the hell is a bluestone? It's from 1967. The Difference with "Sweet sounds everywhere " were a highly regarded Norwegian pop band of long standing- mid '60 through the 70's and are known 'cause John peel played this song on a 1968 Top-gear session. Here they try to enter the world of psychedelia, and definitely has it's charm. Good one too.
Next is Nimrod with "Don't let it get the best of you" It's the B-side of their Bird 45. This is powerful stuff in contrast to the lalala section in the refrain, a nice slice of UK psychedelia.
The Blue Effect perform their "Sun is so bright". They're from Czechoslovakia. It could be recorded in a basement some where is the states at around 1967-1968 but it's not, it's from 1970.It's a nice psychy rocker with some progressive leanings. Good one.
Next is the Scene with "Scenes from another world". The liner notes state that they were an Australian band judged by the disc. It is a catchy pop-song, with some brass and it has a hazy dreamy feel to it. Nice but not essential.
Next is White Trash a.k.a Trash with "Illusions". It's the flip of their "Road to nowhere". Good stuff !!! Great song, it starts out as a good song with some good vocal parts especially in the refrain and some good guitar playing through out. Then they start to build this psychedelic pattern with their instruments, listen how the song develops into some ghostly sounding vocal parts and intense guitar playing, end! ….Play loud!!! It's from 1969.
We end this side with "Out of my mind (over you)" performed by an unknown band.
The sound quality of this one is really bad, as if the record itself falls apart, but is saved for eternity on this compilation. A good psychedelic/progressive guitar work-out. Play this one very loud if you want to enjoy it with some power.
Side B of the album:
We kick of with the Flames and their "Mod trad". It's a slowly build up eastern like instrumental build around two chords.. Not convincing to my ears. It was released on the Equator label distributed by Decca.
The Nashville Teens perform "I'm a lonely one" for us. It's taken from a budget album released in 1972. A well documented band, so I'll say no more.
The Mirage perform some great psychy quality pop for us with "I see the rain". Nice one.
Next are the Matadors with "Don't bother me" which is taken from the compilation album "Night club 1967", They made a full album in 1968. They were from Czechoslovakia. It's a psychy fuzz laden rocker with some progressive leanings. Play loud!
Next is "Mr Paradise"preformed by an unknown group. According to the info booklet: it's a ringer for something Skip Bifferty could have done, and may very well be them.
Next is George Beam with "Floatin'". It's the B-side of his "Bring back lovin'" single released on CBS.. It's from 1968. Probably his only psychedelic adventure.
We end this compilation with the Majority who perform "Time machine man". The sound quality is terrible, but it's taken from an acetate so that explains a lot. A great song! The info booklet states that: blablabla…and no doubt the product of being locked in a room with "Revolver" and told to produce something psychedelic. I'm not responsible for that quote, but it really is a good song with some memorable bass lines.
Enjoy the show!
Reviewed by Joël van Roode - July 2002
Soft Sounds For Gentle People: Far-Out and Beautiful Tracks From California and Beyond - 1966-1971
Pet Records Pet 008
Track List:
Moonpark Introspection - I Think I'll Just And Find Me A Flower, The Avant Garde - Naturally Stoned, Jim & Dale - Past The State of Mind, The Stained Glass - My Buddy Sin, The Pleasure Fair - Today, Hyle King Movement - Flower Smile, Brigadune - I'll Cry Out From My Grave (God I'm Sorry), The Deep Six - C'Mon Baby (Blow Your Mind), Paper Fortress - Sleepy Hollow People, Serendipity Singers - Love Is A State of Mind, Thorinshield - Brave New World, Lewis & Clark Expedition - Blue Revelations, Marcus - Grains of Sand, Stone Country - Mantra, The Parade - ACDC, Rich Kids - Plastic Flowers, Peppermint Trolley Company - 9 'O Clock Business Man, Harper & Rowe - Here Comes Yesterday Again, The Fun And Games - It Must Have Been The Wind, Fireballs - Groovy Motions, Underground Sunshine - Take Me, Break Me, Fargo - Cross With No Name, Appletree Theatre - You're the Biggest Thing In My Life.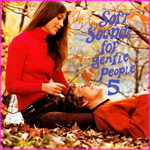 Review:
This one's for all us snow-bound Brits, something to warm our chapped extremities in the face of the vicious wind chill of this hostile time of year. Those who swooned at volumes two & three of Fading Yellow or have a strong preference for all things Usher & Boettcher and any or everything on the (increasingly) cult Rev-Ola label, will want to possess this little beauty as soon as they can. The CD's title pretty much encapsulates the contents. This is predominantly west coast Americana of the late 60s with all the expected references (laid back American folk roots, delightful harmony singing, pretty arrangements and light orchestrations etc.)
Additionally and importantly however, all the hallmarks of quality are here:
very few of these sides (mainly 45s) have been reissued (only Lewis & Clark's 'Blue Revelation' was previously known to me); hidden gems on b-sides are plentiful, liner notes which give the information you want occupy the whole of the insert and there is a thematic integrity and attention to detail which screams 'for fans by fans'. There are 23 lovingly curated pieces in this display and I do not count a duffer anywhere amongst them. Each one is worthwhile, but those which stand out to my ears include Jim & Dale's 'Past The State of Mind', The Deep Six's 'C'mon Baby (Blow Your Mind)', The Serendipity Singers' 'Love Is a State Of Mind' (especially for all you Eternity's Children fans), Stone Country's 'Mantra', The Fun & Games' 'It Must Have Been The Wind', Harper & Rowe's 'Here Comes Yesterday Again' and Fargo's 'Cross With No Name'. If you want to start '03 with a big smile on your face, grab this baby now, it'll do a whole lot more than a cup of Ovaltine to keep you warm!
Reviewed by PM - March 2003
Spinning Wheel Volume 1 - Soft Sike And Perfect Pop 1965-70
2003
Sheroo CD
Track List:
circus - do you dream, steve and stevie - shine, chris rayburn - one way ticket, herman's hermits - wings of love, cilla black - this is the first time, neil macarthur - 12:29, the four kinsmen - it looks like a daybreak, los pernikes - cerca de los estrellas, peter sarstedt - blagged, katch 22 - there ain't no use in hanging on, vashti - winter is blue, zen - bye bye heart, tin tin - she said ride,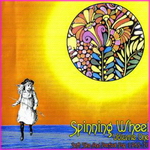 intermission:
the bee gees - coke ad #1, the illusion - electric garden, the picadilly line - how can you say (you're leaving me), billy fury - suzanne in the mirror, cilla black - follow the path of the stars, tony hazzard - fade away maureen, razor's edge - don't let me catch you in his arms, claudine longet - wanderlove, peter sarstedt - once upon an every day, dave dee, dozy, beaky, mick and tich - shame, the ones - lady greengrass, nick garrie - little bird, tin tin - toast and marmalade for tea, tapestry - who wants happiness, plus mystery bonus track!
Review:

There was once (briefly) a time and place in which 'our Cilla' sang Skip Bifferty (and made a good job of it) and brooding pre-beat big balladeer Billy Fury hopped on board the swinging sixties pop train and came off rather well and even Herman's Hermits could peddle pop with lysergic inflections.
Spinning Wheel vol.1 is a veritable cornucopia of pop styles that has something for everyone. Pop psyche is served in the form of set opener Circus, replete with seagulls at either end; Australia's Steve & Stevie (soon to reinvent themselves as Tin-Tin) have strong pop
psychcability and The Illusive Dream come across like 'The End' a la Introspection. On the more conventional (and equally enjoyable) orchestrated pop side of things, Chris Rayburn and Cilla Black's first offering 'This Is The First Time' have a swinging London sensibility. Peter Sarstedt surprisingly delivers the goods in two cuts from his first album; 'Blagged' is classic story telling pop ballad opus about sexual usury (ooh-er) whilst Once Upon An Every Day is a tasty piece of period pop with good hooks. The Four Kinsmen and Spain's Los Pekenikes have a strong west coast feel and The Razor's Edge (who sound very English and are therefore unlikely to be the American group of that name) come across with a strong harmony pop number big on orchestration and straying into Spectre-esque territory. Tin-Tin present a really cool, heavy pop fuzz winner in She Said Ride, and in their second offering 'Toast And Marmalade For Tea' are as whimsical as Peter and Gordon on wacky backy! Dutch band Zen are always cool - go get their new anthology on Rotation - and Colin Blunstone could sing ding don dell, pussy's in the well (but doesn't here!) and still come up trumps with that breathy voice of his.
Claudine Longet's contribution is a slinky, silky pop confection inflected with sitar, very much in the style of France Gall's '1968' album; sophisticated and modestly understated. May one say of Dave Dee & Co. 'killer'? This almost is; displaying a fine period pop tune with strong psyche overtones on the chorus. Germany's The Ones are well known from previous comps, and their Lady Greengrass has an almost Arnold Lane feel in parts. Nick Garrie's Little Bird (from his only album) is a chirpy, chiming poppet of a song and Tapestry offer us off-centre organ driven prog pop with a funky edge! The mystery track is a floaty, breezy, pastoral string driven blues chaser and ends the set very nicely.
This is a delightful collection for those looking for something softer on the ear to lend a little shade, but with a credible focus on almost entirely previously uncomped sixties pop gems that make you want to dig deeper.
All that remains to be said is: 'please sir, can I have some more?!'
Reviewed by PM - March 2003
Spinning Wheel Volume 3
Sheroo
Track List
1. The Underground Set - Arcipelago (inst) / 2.The VIPPs - Winter time / 3. Elizabeth - Not That Kind of Guy / 4.Billy Fury - Going Back To Germany / 5. Los Iberos - Summertime Girl / 6. The Merseys - Dreaming / 7. The Troll - Mr Abernathy / 8. Cilla Black - Abyssinian Secret / 9. The Gibsons - Lazy Summer Day / 10. Timon - And Now She Says She's Young / 11. The Feminine Complex - I Won't Run / 12. The Hinge - You Better Go Home / 13. Claudine Longet - Hello, hello / 14. Waltham Green East Wapping Carpet Cleaning Rodent And Boggit Extermination Association - Death of A Kind / 15. Chrysalis - What Will Become of The Morning / 16. Odyssey - How Long Is Time / 17. The Shanes - Chris Craft No.9 / 18. Tony Hazzard - Everything'd Gone Wrong / 19. The Poppy Family - Endless Sleep / 20. The Family Tree - Keein' A Secret / 21. Ola & The Janglers - Alex Is The Man / 22. Piccadilly Line - Yellow Rainbow / 23. Francoise Hardy - Tiny Goddess / 24. George Martin - Theme One (inst)
Review:
This third (but hopefully not final?) volume of Spinning Wheel has a more consistent and fluid feel to it than Volume 2. The set is topped and tailed by two extra-strong flavoured instrumentals in The Underground Set's groovy 'Arcipelago' and George Martin's monster 'Theme One'. The Vipps (with the extra 'P' between R&B and psych transformation into Art) recorded (mainly for the US market) a few really tough tunes of which 'Wintertime' is one. The Merseys drop in with their Jimmy Campbell penned 'Dreaming' a happy-go-lucky sort of floater whilst fellow Liverpudlians Timon also contribute a delightful softie in 'Now She Says She's Young'.
Longest named band ever Waltham Green... (etc., see track list!) didn't need the novelty name to push their excellent 'Death Of A Kind' as it's a real paisley pop winner. Odyssey's (post Sons of Fred) 'How Long Is Time' has made one brief outing before on a Tony Sanchez CDR, but it deserves a wider hearing, so here it is again. A blissful floater with powerful chorus and that dreamy vocal, a great tune. Tony Hazzard's 'Everything's Gone Wrong' is a non-album B side from 1968 and has that great late 60s pop feel to it that his first album does. Other seldom heard visitors include Chrysalis, The Hinge, The Gibsons, The Troll and Elizabeth all of whom contribute songs of merit and musicality. This is a lovely comp for light - medium pasiley pop and similar styles, perhaps even the best of the three volumes thus far.
Submitted by Paul Martin - August 2003
World Of Acid
Parallel World PW4
Track List:
Side 1:
Pretty - Mustache In Your Face, Raw Meat - Stand By Girl, Cerebrum - Eagle Death, Gold - Favours From The Sun, Shy Guys - Black Lightening Light, The Living End - Sheep.
Side 2:
? - Purple Haze, Purple Canteen - Brains In My Feet, Groundspeed - In A Dream, Graffiti - He's Got The Knack, The Village S.T.O.P. - Vibration, Johnny Thompson Quintet - Color Me Columbus.
Review:
Great compilation album graced with American psych. Great cover too! On the back of the sleeve we find all sorts of LSD paper-trips. Hmmm,…….I wonder.
Side A of the album:
We kick of with Pretty and their "Mustache in your face", it's a Hammond driven rocker with some tight progressive parts in places and some killer guitar work. Good one, play loud! Next is Raw Meat with "Stand by girl". This great raw proggy psych, say no more. Cerebrum perform their "Eagle Death" and is a kind of psychedelic blues adventure with fuzzy guitar riffs, harmonica and treated vocals, and pretty aimless guitar solo's, and goes nowhere, musically. Still it's great fun! Gold plays a kind a high energy rock with their "Favours from the sun" filled with impressive guitar work. I think it's from the early seventies and does not really fit well on this compilation album, but than again if you hear the guitar solo's and the emotional baggage of the singer in the middle section of the song, you're a satisfied listener. Next we're up for the Shy Guys with "Black lightning light. This is pretty cool stuff with lots of fuzz guitar and great vocals and has a great middle section with pumping bass lines, drums and guitar. Play loud. We close this side of the album with the Living End with "Sheep". What's there to say. Mind blowing stuff. Play loud!
Side B of the album:
Here a pretty demented acid version of the Hendrix classic "Purple Haze" preformed by an unknown band. It's not the perfect cover of the song, but they are really having fun .There are some great parts with treated vocals through Leslie speakers and some cool sound effects. Next is the Purple Canteen with "Brains in my feet". It starts with a pretty fuzz-laden guitar melody. A kind of one chord musical wonder. It's from 1967.
Next is Groundspeed with "In a dream" . They only made one single in 1968. It sounds more English than American and has a psychedelic/progressive feel to it. It has strong vocals, upfront organ work and great guitar work too. My personal favourite .Play loud!
Next we're up for Graffiti and their "He's got the knack" which is mainly a fast and fuzzy instrumental with a memorable melody line, that keeps sticking in your head after playing it only once. It's that good. Play loud!
They made a self-titled album on ABC-records. I think it's one of most underrated psych albums to come out of America. Investigate with your ears! The Village S.T.O.P. perform their 'Vibration" for us. It's a freaky played acid-drenched uh, song?! It's full of wah-wah guitar and treated vocals and some demented acid-guitar. The sound of LSD????
To close the album Johnny Thompson quintet perform their "Color me Columbus" This is great stuff, mean vocals, impossible guitar playing, farfisa organ, flute and the whole lot. A pretty psychedelic way to end this record in style! Play loud!!!
Reviewed by Joël van Roode - June 2002