The Ullulators - Beyond The Gates Of Ull
1986
Sel Release (Cassette)
Track List:
Ul Ul Hé, Simply Conscious Dub, Thump The Hampster, The Emerald Table Of Hermes Trisamagistus, Pineapple People, Whales In The Grass, War Apes, Unninurnies, I Can Smell Nirvana, Improbable Muziks, Edilhé, Sloshy Sausages, Living In A Nice Hedge, Shringora, Fish Trunks, Brooce Babbling In The Undergrowth, Cluck-Cluck-Oi.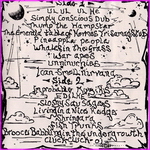 The Ullulators - Monads Of Mangonia
1989
Better Days Tapes
Track List:
Pooja Dub, Special Brew, EE-A Whoppa Amu Hé, Jammu-Tawi Express, S.M.I.L.E, In A Space, In Plaited Hair You Hid The Flow Of Ganges Foam!, We All Love The Same Girl, Things Moving About Outside, 0 Mangonian Pop Musik, Ajos Amour, Duck Nipples, Buttering The Guttering, Agape Dub, It's A Beautiful Thing, Honey, The Milk, Hinayn, Golden Soldier, Quiche Alaha, Harmal Radio.
The Ullulators - Flaming Khaos
1989
Demi Monde DMLP 1021 (UK)
Track List:
Don't thump the hampster, Mustaffa vole, Mr. Buddha Geks, Special brew, Sunrise, S.M.I.2L.E., Feel it, Do ya wanna?.
Review:
The four pieces that make up the first side of this LP and the last of the second refer to the fabulous atmospheres of the free-festivals immortalized on the magnificent images of the inner sleeve; ex-Ozrics Gavin's guitars wed to hyperactive Joie's keys, setting free listener's imagination, who is caressed by the seductive litanies of the charming vocalist Jane: she who sings barefoot and on tiptoe, as if she wanted to raise her voice to heaven…
Alas, nevertheless the male vocalisms are annoying. On the contrary, the remaining three tracks disconcert: on "Sunrise" all the seven members of the band play only the percussions with the accompaniment of birds' chirping and of the usual tedious male voices, whereas "S.M.I.2L.E." and "Feel it" are reggae songs (!!) refined by the gorgeous female vocals.
After all, this is an album that always fascinated me mostly for the evocative moment that documents, rather than for its real intrinsic value.
Submitted by Roberto (The Wrong Way) - August 2003
Ultimate Spinach - Ultimate Spinach
1968
M.G.M (MGM-C/+S 8071)
Track List:
Ego trip, Sacrifice to the moon (in four parts), Plastic raincoats-hung up minds, (Ballad of the) Hip death godess, Your head is reeling, Dove in hawk's clothing, Baroque £1, Funny freak parade, Pamela.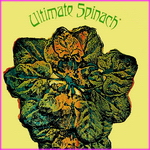 Review:
Pretentious? Yes. Good? Definitely!
On this, their first album, Boston favourites, Ultimate Spinach sound similar to early CJ & The Fish. The band were the brain child of singer, guitarist, and pianist; Ian Bruce-Douglas who was also their visionary music guru.
This album is saturated with hippie lyrics about "Ego Trips", a "Hip Death Goddess", and the "Funny Freak Parade". However, the two best tracks on the album are actually instrumentals, "Sacrifice Of The Moon (in four parts)" and "Baroque No. 1". Both songs are wonderful tracks which proudly represent 60's underground hippie/psych at its best.
A classic recording full of glorious psychedelic guitar melodies which are strung together with a swirling organ and fuzz bass. They certainly don't make albums like this anymore. A true time capsule of the American counterculture of the late 60's.
Reviewed by Flaming Groovy - January 2002
Ultimate Spinach - Behold & See
1968
M.G.M (MGM-C/+S 8094)
Track List:
Behold and see (Gilded lamp of the cosmos), Visions of your reality, Mind flowers, Where you're at, What you're thinking of (Jazz thing), Fragmentary march of green, Suite: Genesis of beauty (in four parts), Fifth horseman of the apocolypse.
Review:
While the trip was just getting started on their first album, this, their second, is without a doubt where the trip began to go horribly wrong.
"Behold & See" is, in my humble opinion their best and quite possibly, their most psychedelic album. It is worth it alone just for Bruce-Douglas' horrendously terrifying "Mind Flowers" and the glorious instrumental "Fifth Horseman of the Apocalypse".
A true acid classic and essential for any psychedelic collection.
Reviewed by Flaming Groovy - January 2002
Ultimate Spinach - III
1969
M.G.M (SE 4600)
Track List:
(JUst like) Romeo & Juliet, Some days you just can't win, Daisy, Sincere, Eddie's rush, Strangle life tragicomedy, Reasons, Happiness child, Back door blues, The world has just begun.
Review:
Unfortunately by the time of this, their third and last album, everyone except Barbara Hudson had bailed out of the band.
Perhaps the seriously bad trip of "Behold and See" was too much for the others, or maybe the acid hangover was beginning to wear thin. Whatever the case may be, nothing about the original Spinach remains on this recording. This is not a psychedelic album, nor is it representational of who the band were when they cut their classic first and second album.
A shame that this band was allowed to keep the name, avoid this album at all costs.
Reviewed by Flaming Groovy - January 2002
United States Of America - Same
1968
Edsel (re-issue)
Track List:
The American Metaphysical Circus, Hard Coming Love, Cloud Song, The Garden Of Earthly Delights, I Wont Leave My Wooden Wife For You, Where Is Yesterday, Coming Down, Love Song For The Dead Che, Stranded In Time, The American Way Of Love.