Kak - Same
1969
Epic 26429
Track List:
HCO 97658, Everythings Changing, Electric Sailor, Disbelieving, Ive Got Time, Flowing By, Bryte And Clear Day, Trieulogy, Lemonade Kid.
Kaleidoscope (USA) - Side Trips
1967
Epic-26304
Track List:
Egyptian gardens, If the night, Hesitation blues, Keep your mind open, Pulsating dreams, Oh death, Come on in, Why try, Minnie the moocher.
Kaleidoscope (USA) - A Beacon From Mars
1968
Epic-26333
Track List:
I found out, Greenwood sidee, Life will pass you by, Taxim, Baldheaded end of a broom, Louisiana man, You don't love me, Beacon from Mars.
Kaleidoscope (USA) - Incredible Kaleidoscope
1969
Epic-26467
Track List:
Lie to me, Let the good love flow, Tempe Arizona (or) Killing floor, Petite Fleure, Banjo, Cuckoo, Seven ate sweet.
Kaleidoscope (UK) - Tangerine Dream
1967
Fontana - S+/TL15448
Track List:
Kaleidoscope, Please excuse my face, Drive into yesterday, Mr Small-the watch repairer man, Flight from Ashiya, The murder of Lewis Tollani, (further reflections) in the room of percussion, Dear Nellie Goodrich, Holidaymaker, a lesson perhaps, The sky children.
Review:

"Relax your eyes, for after all, we can but share these minutes..." So begins this masterpiece.
But where to start when talking about, quite possibly, my favourite psychedelic LP of all time? There is something otherwordly and magical about the UK band Kaleidoscope. It's difficult to describe. The music was essentially 60's fairtytale psych.
If I had to draw comparisons and influences on the style, I'd probably say early Syd Barrett -Floyd, early Bee Gees or playful psych-Donovan.
Peter Daltrey's vocals were heavily influenced by Donovan. The jangly, unique, sometimes fashionably slightly off tune electric guitar is wonderful and atmospheric. Highlights on this album include; "Dive into yesterday", which is a spectacular piece of strange almost poppy psych that shouldn't work, but for some reason does with flying, electric colors. The alternating time signatures and truly peculiar lyrics make this one brilliant.
Most reading this will have already heard the spectacular "Flight From Ashiya", Kaleidoscope's most known song that has appeared on countless compilations, 14 hour technicolor dream and Nuggets just to name a few. And it is one of the best psych songs of the era, in my opinion.
The best song on this album is "The murder of Lewis Tollani (Furthur reflections). Think 'New York Mining Disaster 1941' and you'll have an idea of just how brilliant this song is. Such atmosphere! "The sky children" is a classic psych long player that just goes on and on.. it's a fairy tale about a group of children in a faraway, utopian, medieval dream land and it's just beautiful.
I felt this album really needed a review so everyone who hasn't heard this album can discover it and immerse themselves in its wonder. In my opinion, it's up there with Piper at the gates of dawn as a downright classic.
It was reissued on CD a few years ago, so it's floating around in a lot of good record stores around the world. A vinyl copy is pretty hard to come by, as there were never very many copies made even in the 60's.
The band made one more album (Faintly Blowing), then turned into the early 70's psych/prog band "Fairfield Parlour", whose two albums "From home to home" and "White faced Lady" were also brilliant efforts.
The lead singer Peter Daltrey still makes solo albums, and I recently conversed with him through e-mail. His site tells the story of Kaleidoscope/Fairfield Parlour and sells his many solo albums
from the 90's and now. (http://members.madasafish.com/~chelsearecords/index.htm)
Reviewed by Mad Hatter - June 2003
Kaleidoscope (UK) - Faintly Blowing
1969
Fontana - STL 5491
Track List:
Faintly blowing, Poem, Snapdragon, A story from Tom Bitz, (Love song) for Annie, If you so wish, Opinion, Bless the executioner, Black fjord, The feathered tiger, I'll kiss you once.
King Crimson - In The Court Of The Crimson King
1969
Island ILPS 9111
Track List:
21st Century Schizoid Man, I Talk To The World, Epitaph, Moonchild, The Court Of The Crimson King.
Review:
Take a guitarist hungry of glory with a madness way to play like Robert Fripp, an excellent vocalist like Gregg Lake (later ELP), a trippy acid lyricist like Pete Sinfield, a heavy-jazzy drummer like Michael Giles and a multi-instrumentalist like Ian MacDonald, all of them young and virtuoso players and make an album full of colours, winds, mellotron, a driven guitar who takes you to places where only Lake could explain it in words , it's 1969, a new world is coming , new sounds came from these British guys, exploring textures and different sounds, sometimes really heavy (21st Century Schizoid Man), sweet and tender (I Talk To The Wind, Moonchild) or full of beaty mellotron sounds (Epitaph, The Court Of The Crimson King).
One of the best and beauty albums by Crimson and it was only the beginning....
Reviewed by Alejandro Casado - July 2002
Buenos Aires, Argentina
Review 2:
In 1969, the British Prog-rock scene was beginning to take shape, and bands like King Crimson had a uniqueness that would engrave their place in prog-rock history.
Using instruments like the mellotron and a variety of wind instruments, combined with intellectual lyrics they were able to create music that drew people into a mythical adventure that dug deep into the listeners mind. With the very melodic and jazzy guitar licks supplied by Robert Fripp, douced with complex basslines and haunting vocals from Greg Lake, King Crimson challenged other bands of their time to explore and push themselves to the limit musical, intellectually, as well as artistically.
The peaceful and very airy sound of I Talk To The Wind relaxes the mind into a place where you can say whatever you want to because "...words are all carried away..." and "...the wind does not hear..."; it is a place where you can be free and comfortable with who you are. On the track Epitaph, Greg Lake's voice taunts your emotions and inner fears to come forward. I feel it is about society and the state of the world in which they were living in, and how nobody seemed to notice or care about it; and the more aware one becomes about these problems, the more it eats away at you, "...knowledge is a deadly friend..." and "...the fate of all mankind I see is in the hands of fools...".
The title track of the album In The Court Of The Crimson King seems to be a tale of some far away kingdom full of darkness and deception that paralells society. A very full sounding song driven by the thundering mellotron and pounding basslines in the chorus and by enchanting guitar picking during the body of the song. This album is an all out success in terms of being genuinely different and conceptually perfect.
The album is laden with talent that was extinguished when the core of the band split up halfway through the recording of there follow up album In The Wake Of Poseidon.
If you are a fan of pondering, relaxing, and letting music take you on a jourmey then this album is a must have.
Submitted by Jeffery Curtis - February 2004
King Crimson - In The Wake Of Poseidon
1970
Island (Ilps 9127)
Track List:
Peace - a beginning, Pictures of a city (including; 42nd at treadmill), Cadence and cascade, In the wake of poseidon (including; Libras theme), Peace - a theme, Cat food, The Devil's triangle: Merday morn - Hand of Scerion - Garden worm, Peace - an end.
Review:
The second part of "In the Court of..." Lake gets off in the middle of the recording, the songs where sometimes more ellaborated and obscures, the great and heavy "'Cat Food", the sweet "Cadence And Cascade, the obscure "Devil's Triangle", more of the same as their first album ,a good album but...something will change in the next one ...
Reviewed by Alejandro Casado - July 2002
Buenos Aires, Argentina
King Crimson - Lizard
1970
Island (Ilps 9141)
Track List:
Cirkus (including; Entry of the chameleons), Indoor games, Happy family, Lady of the dancing water, Lizard suite: Prince Rupert awakes - Bolero- The peacock's tale - The battle of glass tears; (a) Dawn song - Last skirmish - (c) Prince Rupert's lament, Big top.
Review:
Personnel changes, only Fripp and Sinfield continue with the project, Keith Tippett on piano , Mel Collins on saxes and flute, Boz on vocal and bass and Ian Wallace on drums were the personal on this album full of beauty and a symphonic sound, with the voice of Jon Anderson of Yes guest on one track (Prince Rupert). The influence of Ravel's Bolero on side 2, the sweet "Lady Of The Dancing Water" with Mel's excellent flute playing , the crazy "Happy Family" and Cirkus made this album so good as In the Court ..", enjoy it.
Highly recommended...
Reviewed by Alejandro Casado - July 2002
Buenos Aires, Argentina
King Crimson - Larks' Tongues In Aspic
1973
Island (Ilps 9230)
Track List:
Larks' tongues in aspic (part one), Book of Saturday, Exiles, Easy money, The talking drum, Larks' tongues in aspic (part two).
Review:
A new band, a reformed Crimson far from the symphonic sounds of the past, with one of the best drummers of the moment ex-yes Bill Bruford), the heavy bass and voice of John Wetton , the violin and mellotron of David Cross, Tom Muir percussion and Robert Fripp recorded an album with a more quartet sound, with more improvisations and an excellent live performance with more jazzy feel (thanks Bruford), minimalism (Lark's Tongues In Aspic II ) bass and drum improv (The Talking Drum) and three beauty songs with Wetton's voice "The Book Of Saturday" Exiles (with an excellent violin playing) and the hit?? "Easy Money " with the mellotron and guitar playing an excellent riff, unforgettable!!
Only one word.....Excellent
Reviewed by Alejandro Casado - July 2002
Buenos Aires, Argentina
Koobas - The Koobas
1969
Columbia (scx 6271)
Track List:
Royston rose, Where are the friends, Constantly changing, Here's a day, Fade forever, Barricades, A little piece of my heart, Gold leaf tree, Mr.Claire, Circus.
Krom Lek - Psychedelic Dot Krom
2000
Stone Premonitions SPCD 021
Track List:
Long Meg, Indian Rubber Man, Face Pulla, Gaia Mother, Evolution, Outer Aura, Pandora's Pots, Corruptaplod, Strange Girl, Top O' The Tor, Summer Sun.
Review:
Another wonderful release from the Stone Premonitions stable in County Durham, UK. This time full on psychedelic space rock flavour is the order of the day, 'Free Festival' style, perhaps given away by the bands name (A Cromlech is a standing stone or group of stones).
I will avoid the obvious influences they get tagged with in every review, so what?
The deal HERE is extremely good, powerful guitar driven psychedelic space rock opening with the spiralling 'Long Meg'. Next up is 'Indian Rubber Man',a more mellow eastern flavoured jam. Things take off again with 'Face Pulla' a nice instrumental piece followed by 'Gaia Mother' which opens with some haunting flute and acoustic guitar before going full on eastern style with chanted vocals carried along by the flute and Indian style drumming. 'Evolution' is a slight change of direction and starts with an exotic flute lead Ska vibe, gradually transforming into a shape shifting reverb laden spaced up reggae tune.
The 'Hurry On Sundown' feeling 'Outer Aura' is next up and is a refreshing and uplifting acoustic based track segmented by an effects laden guitar burst halfway through. Ahhh, it's didge time...cool!!, 'Pandora's Pots' is a nice didge and drums excursion with some keyboard effects flowing around the central piece. Now we travel back in time to 1979's Ska revival for 'Corruptaplod'.....I'm sure they smuggled Lee Thompson in there somewhere ;-)
'Strange Girl' is back to 'festie vibe' with another eastern flavoured cosmic jam. 'Top O' The Tor' builds on a guitar riff into a 6 minute space rocker and is perhaps a tribute to Glastonbury Tor? The album finishes with Summer Sun, another guitar and sax space jam which reminds me a bit of the Magic Mushroom Band.
Great festival scene cosmic space rock tunes from the North East...
Also well worthy of mention is the wonderful artwork on this album which is really eye catching, the front cover is a psychedelically coloured fractal image and the CD itself wonderfully psychedelic, so much so that we have taken the unusual step of including a scan of the CD itself as well as...!!
Reviewed by pOoTer.
Krom Lek - Collective Conscious
2001
Stone Premonitions SPCD-031
Track List:
Krom Lek, Collective Conscious, Secrets Of The Maze, Picking Rooms, Step In Time, Day Tuna Part 2, Merfolk, Earth Energies, The Sun Shines Through, Earth Illusion, Earth Jam, Star Mix.
Review:
Collective Conscious is a collection of early material from Northern psilocybin imbibers Krom Lek featuring tracks recorded between 1985 and 1995, the 'magically mushroon seasoned years'.

For fans of the band there are some excellent songs included here featuring lavish doses of Gliss guitar, flutes and Didge, in particular the awseome tribal drone of the title track which really gets into a nice vibe with trancey didge, tablas and even a rogue chicken making an appearance ;-)

If you have only heard more recent Krom Lek then perhaps the sound is a little different, but if you dig full on cosmic space rock then this CD will not dissapoint as it is full of swirling guitar, synths and tripped out mantras.
Reviewed by pOoTer - April 2002
Kryptästhesie - No Age
2000
Mizmaze Records MZ002
Track List:
Il Tao Della Violenza, Tetano, Tutto Passa, Stella-Macchina- Guerra, Prima Poesia Dell'Anno, Aleph, Seduzione, Ent(h)omologia, ALH 84001, Dark Lady Incontra Il Suo Fantasma Preferito (Non Edipico), Aquila, Self-Heterogenization.
Review:
Italy's Kryptasthesie formed at the end of 1984 and immediately began recording and releasing pioneering and eclectic music that so successfully avoids a specific genre it would be insulting to even attempt to categorise them. Suffice to say it is a captivating blend of Folk, Psychedelia, Space Rock, Krautrock/Experimental with an occasional and welcome 'dark' edge to it.

'No Age' on Italy's Mizmaze Records is their third full length album with previous releases being 'Shaken At The Sun' (Menhir, 1992) and 'Inner Whirl' (Delerium, 1996)
'Il Tao Della Violenza' (The tao of violence) opens the album and builds slowly into a demented space rock journey with chanted vocals and a pounding tribal drum beat that reaches a plateau at the 6.30 mark before building back up to frenzied ending. 'Tetano' is a complete shift of style with pacey synths/drums in an almost dancey vein.
The tempo drops back for the mellower 'Tutto Passa' featuring rich layers of spiralling synth, tabla (?) and folk flavoured. Next up the electronic soundscapes of 'Stella-Macchina- Guerra', with vocals fed through an effects unit and a fragmented breakbeat. 'Prima Poesia Dell'Anno' (First Poetry Of The Anno?), one of my favourite tracks is a bit of a stomper, starting with plenty of acoustic guitar which is soon replaced with electric guitar, a nice tribal drum beat and dreamy vocals. 'Aleph' features more strange effects laden vocals that warp and twist with a very dark demonic edge to them, almost like spaced out monks chanting some outer galaxy prayer interlaced with subtle wispy synth overlays. 'Seduzione' picks up where 'Tetano' left off for a short percussion lead blast before running into the outstanding 'Ent(h)omologia' which is a wonderful hallucinatory trip that rides along on a rhythmic guitar riff and pounding percussion.
'ALH 84001' is more warped out hypnotic freakery featuring an unusual blend of acoustic and electronic instruments full of reverb and delay/echo. 'Dark Lady Incontra Il Suo Fantasma Preferito' (Dark Lady Meets Her Favourite Ghost) is excellent Webcore style dark psychedelic mayhem with swirling wah-wah guitar. 'Aquila' spookily sounds like the Psychedelic Furs and is a pleasant journey with effects driven guitar. This wonderfully fresh and original album ends with the short lived, hypnotic spacey drone of 'Self-Heterogenization' which becomes a whirlpool of crashing soundscapes and effects.
Kryptästhesie, it's unlikely you will have heard anything this original for a very long time and the beauty of it is it's constantly shifting styles and pace. No home should be without one.
Reviewed by pOoTer.
Kula Shaker - Peasants Pigs and Astronauts
1999
Columbia
Track List:
Great Hosannah, Mystical Machine Gun, S.O.S., Radhe Radhe, I'm Still Here, Shower Your Love, 108 Battles (Of The Mind), Sounds Of Drums, Timeworm, Last Farewell, Golden Avatar, Namami Nanda-Nandana, (untitled) - (hidden track.)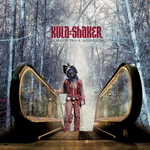 Review:
Another stunning album from Kula Shaker and if you like their thing, then you WILL like this too. This album sees a much more matured sound, their style wrought out on K, here there is more experimentation and less driving guitar and keyboards, more mysticism and spaced out songs.
The strong Eastern influence is still very much an underlying theme, but it is segmented by some very strong songs too. Perhaps a few stages down the road from the Mod/Psych of K, but this is just natural progression and quite why these guys split up soon after its release mystifies me (someone TELL ME??).
Reviewed by pOoTer.
Kyuss - Welcome To Sky Valley
1994
Elektra 7559-61571-2
Track List:
Gardenia, Asteroid, Supa Scooa and Mighty Scoop, 100 deg, Space Cadet, Demon Cleaner, Odyssey, Conan Troutman, N.O, Whitewater
Review:
With "Blues for the Red Sun", Kyuss had an instant classic. But nothing could prepare their fans for the absolutely awesome follow up, "Welcome to Sky Valley." The album consists of 10 songs, divided into three suites. Everything from their previous albums is here, but it's all assembled in fresh, exciting ways.
You get everything from furious metal, psychedelic jamming, wild space rock, and pretty much everything in between, all held together by a heavy prog-rock influence. Highlights abound!
But the true centerpiece would have to be "Odyssey", which makes perfect use of the previously mentioned styles. Kyuss in a nutshell, most will say.
All fans of stoner rock or heavy psychedelia must pick up this album.
Reviewed by Not Telling - June 2003
Kyuss - ...And The Circus Leaves Town
1995
Elektra 7559-61811-2
Track List:
Hurricane, One Inch Man, Thee Of Boozeroony, Gloria Lewis, Phototropic, El Rodeo, Jumbo Blimp Jumbo, Tangy Zizzle, size Queen, Catamaran, Spaceship Landing.