Fabulon Triptometer - Padded Lounge
1992
Midnight
Track List:
A Very Super Action, It Was On a Winters Day, Winkle Picker Shoes, Tallulah Bankhead, Ten Screaming Queens, Living With The Lady, Moon and Satellite, Little Star on Bethlehem, Psychosis of the Worm.
Factory, The - Path Through The Forest
1968
Bri-Tone
Track List:
Path Through The Forest. Gone. Mr Lacey. Try A little Sunshine. Red Chalk Hill. Second Generation Woman.
Review:
Possibly the best British Psych/Freakbeat band of all time?. This CD release sees both singles and some unrealeased demos material from this stunning band. Path Through The Forest is a driving psych track with an excellent drum beat and vocal effects (this is one of my all time faves).
Reviewed by pOoTer November 2000
The Fallen Angels - Roulette Masters Vol. 1
1968
Collectables
Track List:
Room At The Top, Love Don't Talk To Strangers, Your Friend Here In Dundersville, I've Been Thinking, It Might Have Been Easier To Stay At Home, Most Children Do, Introspective Looking Glass, I Don't Wanna Fall, No Way Out, Painted Bird, Mother's Homesick Too, You Have Changed.
The Fallen Angels - Roulette Masters Vol. 2 (It's A long Way Down)
1968
Collectables
Track List:
Poor Old Man, A Horn Playing On My Thin Wall, Something You Can Hide In, Tell Me A Story, Silent Garden, Look To The Sun, One Of The Few Ones Left, I Really Love My Mother, Look At The Wind, Didn't I, It's A Long Way Down, I'll Drive You From My Mind.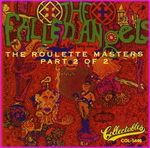 Fever Tree - Same
1968
Uni 73024
Track List:
Imitation Situation, Where Do You Go, San Francisco Girls (return of the native), Ninety-Nine And One Half, Man Who Paints The Pictures, Filigree & Shadow, The Sun Also Rises, Dat Tripper, Nowadays Clancy Can't Even Sing, Unlock My Door, Come With Me (rainsong).
Fiction (Featuring Tony Hill) - Dna, The Brain, The Universe
2001
Inexact IM005
Track List:
Conscious Accident, Could Of Been Great, Everybody Knows, Open Season, You Wouldn't Want to, But There Again.
Review:
It was an exciting day when this package landed in our PO Box, this the latest album from Tony Hill's Fiction. First a little history lesson for those of you not familiar with the name....shame on you!!

After cutting his teeth in 60's Beat combo The Answers Tony Hill then joined cult psychedelic band The Misunderstood who turned out some of the best British psych you will ever hear before taking his now legendary guitar sound onto an ambitious but successful band called High Tide in the early Seventies that featured the unusual combination of effects laden guitar and violin, played by Simon House (later of Hawkwind and related bands).

After taking break from the music business Tony was encouraged to pick up a guitar again by Nick Saloman (AKA Bevis Frond) who took Hill back into the studio to record the acclaimed Inexactness, released on the Woronzow label in........This current album features Tony's new gigging band Fiction and you will be pleased to know that Tony's very distinctive guitar sound is as razor sharp as ever backed up by the solid Bass guitar of Deannie Holt keeping it all locked together and the tight drums of a certain Syd Farrell (son of drummer Louis Farrell from seminal UK Hard Rock band Gun).

Fast paced heavy psych guitar rock is the order of the day, which comes across as a stripped down High Tide, minus the duelling Violin/Guitar, delivered in a tight well rehearsed style that every now and again sees Tony playing some blistering guitar runs and fills, particularly evident on the magnificent But There Again that sounds like three guitars in places!!.

Vocally Tony sounds very strong and uncannily like a young Jim Morrisson in places and it's hard to believe that you are listening to a three piece band at times with Tony appearing to play both lead and rhythm simultaneously and still finding time to sing.

Fiction are currently out touring to promote this album and I strongly suggest you go and see them, we are all off to see them in nearby Hitchin next weekend and are looking forward to a red hot gig 'cos these guys rock!!!

They were a bit cagey about the album title itself, telling me I would have to ask Tony himself, something I will have to do, no doubt.
Reviewed by pOoTer - January 2002

Fifty Foot Hose - Cauldron
1967
Limelight 86062
Track List:
And after, If not this time, Opus 777, The changes that consern you, Opus 11, Red the sign post, For paula, Rose, Fantasy, God bless the child, Cauldron.
The following tracks appear on the CD re-issue:
If not this time (Demo), Red the sign post (Demo), Bad Trip.
Review:
With it's trippy delayed vocals, psych-guitar and electronic weirdness this is a true psychedelic trip. The album features an mix of male and female vocals mixed with a contemporary rock beat fused with avant-garde electronics, though in a much different style than the Silver Apples and the United States of America.

The female vocalist Nancy gives a jazz edge to the music and the male singers add a blues touch to the show. The CD reissue states that "Track 1 is a two minute oscillating tone. There is nothing wrong with your CD player", after listening to this album it's not the cd player your worried about it's your tripped-out head! I would certainly rank this as one of the Top Ten psychedelic albums ever made.

The reissue has excellent sleeve notes on the band and there history and features seven bonus tracks.
Four tracks by Fifty Foot Hose and three by The Ethix.
Review by Electrip - July 2002
The Filipinos - Doo·wadda·doo·wop!
1989
Swordfish SWFLP9 (UK)
Track List:
Dictator, Soul brother, Skydiver, Grindin' the bones, Doo·wadda·doo·wop!, Lost & found, Cool head for 501's, Hypnotisin' me.
Review:
The beautiful gatefold sleeve discloses inside, among the others, two pictures of female strip-teasers: each time I listen to this record, "sensual" is the first adjective that strikes me… the same sensuality that sweats from the grooves of Thee Hypnotics' "Soul glitter & sin" that likely starts where this "Doo·wadda·doo·wop!" ends.

Pleasant sensations are conveyed by the carpet of Farfisa and Vox organs that the keyboardist Henry Smith wonderfully lays, upon which the guitarist Marc "Motor-Sonic" Barrows slides like a Deniz Tek (of Radio Birdman fame) on acid.
Unfortunately the aforesaid Smith left the group the same day this glamorous album was released, and honestly his absence made the following works clearly less attractive.
Submitted by Roberto (The Wrong Way) - August 2003
Fire - Magic Shoemaker
1970
See For Miles (reissue)
Track List:
Children Of Imagination. Tell You A story. Magic Shoes. reason For Everything. Only A Dream. Flies Like A Bird. Like To Help You if I Can. I Can See The Sky. Shoemaker. Happy Man Am I. Children Of Imagination.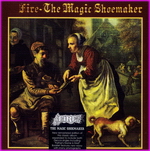 Review:
Super rare gem from the 70's whose members went on to form The Strawbs. Get this on vinyl and you will be a lucky man indeed (and about £350 worse off!!)
Whymsical narrated concept album telling a fairytale story about a magic shoemaker, some quite psychy tracks amongst extended progressive rock and gentle acoustic cuts. There are some very strong tracks here and the album on the whole is very good indeed.
The plot is a story being told to some young children on a bus journey and is written and narrated entirely by Dave Lambert.
Not long after this album was released the band split and Dave joined The Strawbs.

Don't buy it however on the strength of the awesome 1968 freakbeat stomper on Decca - My Father's Name Is Dad, 'cos it aint on here...
Reviewed by pOoTer
Fire Escape - Psychotic Reaction
1967
GNP Crescendo 2034
Track List:
96 Tears, Forune Teller, Talk Talk, L.S.D, The Trip, Blood Beat, Pictures and Designs, Journey's End, Trip Maker.
Review:
Run of the mill ('exploitation' ?) album recorded by session musicians allegedly put together by the legendary Kim Fowley, comprising of cover versions of various artists such as ? & The Mysterians, The Seeds and Kim Fowley.

An interesting album to have in a collection for completeness but not blinding stuff.
Reviewed by pOoTer
Five Day Week Straw People - Same
1968
Saga 2123
Track List:

Five Day Week Straw People, I'm Going Out Tonight, Gold Digger, Postman, Car Wash, Feel Like Having A Party, Sunday Morning, Does It Rain, If You Were Around, Dust Is In My Eyes.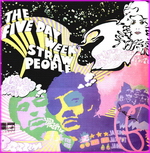 Ford Theatre - Trilogy For The Masses
1968
ABCS658
Track List:
Side One: Theme for the Masses, 101 Harrison street, Excerpt (from the theme), Back to Philadelphia, The race
Side Two: The race, From a back door window (the search), Theme for the Masses, Postlude: Looking back.
Review:
Songs that really catch the ear on side A of the album:
"Theme for the Masses" is the theme song of the album it starts with a string quartet and has a great melody( a good melody is one that get stuck in your head after hearing it only once.), than the electric guitar and organ are coming in to play the theme with a jazzy undertone, all backed by this amazing string quartet, intense stuff. This fades into the next song "1010 Harrison street" the highlight on the album according to these ears.
This is excellent stuff with introspective lyrics . Here a few lines from that song: I think you're lookin' around for somethin' you can't find here You're hidin' your head, and you're tryin' to hide your fears And now there's somethin' else on your mind You're trying to find Who you belong to……….,
Phew! The middle section has some great freaky guitar and organ workouts, sometimes they're bordering on the edge of the song cohesion. But it never fails to keep the ears excited. O yeah, the vocal department is good too. They end this suite like song with "Excerpt (from the theme)" like it says it's a variation of the main theme.
Great! Songs that really catch the ear on side B of the album:
"From a black window" is a fine song with some progressive leanings, and introspective lyrics again with at the end the message you need LOVE! After that a killer organ solo's starts to build around the guitar bass and drum work. Time for the two guitar players who are inter weaving their guitar patterns, with success. There are some high pitched John Cipollina styled notes dripping from their guitars.
Great stuff with some really freaky moments and all based around two chords before they return to the song structure. After that the main theme kicks in again, with a fantastic melody line & intense organ playing, guitars and a cool string quartet.
Say no more. A fine album that you will play over and over again.
They made a second album, which I have not heard but I,ve read that it's inferior to the first one, I just don't know but what I do know is that the first one has it's moments of brilliance!.
Reviewed by Joël van Roode - August 2002
Fox - For Fox Sake
1970
Fontana 6309 007
Track List:
Secondhand love, Lovely day, As she walks away, Glad i could, Butterfly, Look in the sky, Good time music, Mr blank, Man in a fast car, Birthday card, Madame magical.
Review:
In a similar style to the original Nirvana, Fox produced haunting guitar, sitar material of which this is a classic. Allegedly banned when released due to the title (think about it) this is now a rare and sought after release (I paid £25 for it in 1985 and have never seen another copy).

Probably the best track here is Butterfly which got an airing on the UK 80's Bam Caruso compilation 49 Minute Techincolour Dream. A must for collectors of British rarities.

It also has an excellent cover (a poor slice up job done on the pooterland scanner is included below) a poke in the eye if you can spot the join :)
Reviewed by pOoTer
John Francovic - Under The Water Lily
1993
Midnight
Track List:
Your Telling Me, Here We Stand, On a Full Moon Night, I Thought I Saw You, Amen the End, My Secret Hiding Place, Under The Water Lily.
Freak Scene - Psychedelic Soul
1967
Collectables CD
Track List:
A Million Grains Of Sand, "...When In Course Of Human Events (Draft Beer, No Students)/Interpolation: We Shall Overcome, Rose Of Smiling Faces, Behind The Mind, The Subway Ride Thru Inner Space, Butterfly Dream, My Rainbow Life, The Centre Of My Soul, Watered Down Soul, Red Roses Will Weep, Mind Bender, Grok!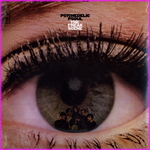 Fredric - Phases & Faces
1968
Forte 80461
Track List:
Federal Reserve Bank Blues, The Girl I Love, All About Judi, Henry Adams, Morning Sunshine, Taggin', Cousin Mary Knows, My Yellow Tree, Red Pier, Old Fashioned Guy, Born In Fire, Saturday Morning With Rain.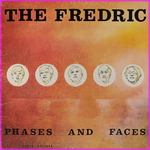 Review:
This is a well-crafted 60's pop record that is chock full of wonderful hooks and an interesting baroque sounding organ thrown in for good effect. Whilst not necessarily psychedelic, it has enough traces of psychedelia to keep many fans happy. At times, the music is reminiscent of The Turtles whilst other times it takes on an almost Anglo-Pop approach to its sound (e.g." Henry Adams").
Opening track "Federal Reserve Bank Blues" has a great folk-ish/Eastern sounding guitar and a magnificent opening line of "You live for my money now isn't it funny it's gone". Some delicious swirling organ and a bass line that pulses like a heartbeat hold the song together. Next up is "The Girl I Love". This is 60's pop music at its best. This song is brilliantly written and is accompanied by a superb musical score.
However, for me, it is the songs "All About Judi" & "Red Pier" which are the albums strongest tracks. "All About Judi" is a luscious, mellow, dopey love song about stealing your best friends girl. "Red Pier" is possibly the most psychedelic track on the album. It's an extremely lazy, hazy musical fog that weaves and floats in almost suspended animation. It makes me feel completely airless and if this isn't the recipe for first-rate psychedelia then I don't know what is.
A couple of other tracks worth mentioning are "Cousin Mary Knows" & album closer, "Saturday Morning With Rain". I love the arrogance of the opening lines of "Cousin Mary Knows"-
"Ask her about the sit-u-a-tion
She's got so much ed-u-ca-tion
Meditates during a meditation….
Cousin Mary Knows"
If only the vocalist had the attitude and nasal sneer/snarl of Iggy or Sky, this could be a fantastic punk track.
"Saturday Morning With Rain" is a nice closing track with some exquisite guitar, breathy harmonica and mellow bongos throughout.
No, the record doesn't always hit the right mark, and there are a couple throw away tracks, but hell, given the fact these songs were written, composed and recorded by teenagers who had such a great understanding of how to structure a pop song one must admire it for that asset alone.
I will give it a resounding….3.5 Sugar Cubes.
Reviewed by BlueMagoo - October 2002
The Freeborne - Peak Impressions
1967
Monitor Records MPS 607
Track List:
Images, Land of Diana, Visions Of My Own, Sadly Acknowledged, Peak Impressions & Thoughts, Yellow Sky, Hurting Kind Of Woman, Inside People, Song For Orestes, But I Must Return To Frenzy.
Review:
This is probably one of my favourite albums to come out of the Boston area during the 1960's. It is certainly one of the trippiest and it comes complete with more complex imagery and twists than a Hitchcock plot. The album opens with the jazzy piano sounds of "Images" which beaks into a superb Flamenco/Latin sounding solo in the middle of the song one almost expects to hear an "Ole" shouted at the end.
"Land of Diana" swims and dances its way through your head. A very psychedelic song that climaxes into an astonishing organ and guitar freak-out whilst the final seconds of the song ends with a 1920's style acapella do-wop. Truly bizarre but nevertheless it is highly entertaining and makes for a great finish. "Visions Of My Own" is a beautiful song that superbly marries a medieval sounding harpsichord and recorder with the marching sound of a militaristic drum roll. One can almost see (hallucinate) a psychedelic court jester in full regalia dancing merrily for his King in the Palace forecourt.
"Sadly Acknowledged" is a short ditty about war…although written during the Vietnam War, the lyrics and orchestral background conjures up images of WW1 infantryman lining up to die in the trenches outside of Ypres town. Side One closes with the hallucinatory "Peak Impressions & Thoughts". This has to be one of the greatest songs about an LSD trip ever captured on tape. At times it is reminiscent of "Grace" by CJ & the Fish, but its brain plucking guitar notes and adrenalin rushing climatic build-up make it much more spooky and ethereal than CJ & the Fish ever were. Marvellous stuff but I'm not sure if it's a good trip…or a bad one.
In my opinion, side two pales in comparison to the brilliance of side one, however there is still some interesting and worthwhile musical explorations going on. "Yellow Sky" has a nice twisty, spinning feel with some great wah-wah guitar.
The jazzy blues of "Hurting Kind of Woman" has a moody atmosphere that makes you feel as if you are sitting in a dark, smoky bar. "Inside People" has a pretty cool fuzz tone effect on the vocals making the song very druggy indeed. The album then closes with possibly its two weakest tracks (for me). "Song for Orestes" and "But I Must Return to Frenzy". It's not that these songs are bad, they just are not up the same standard of the previous tracks.
This is certainly an essential recording for any psych collector and due to its extravagant and unusual musical accompaniment it makes for a unique listening experience.
I can't fathom that this album could have been recorded in any other decade than the late 60's.
Reviewed by BlueMagoo - November 2002
Fresh Maggots - Fresh Maggots
1971
RCA SF 8205
Track List:
Dole Song, Rosemary Hill, Quickie, Everone's Gone To War, And When She Laughs, Spring, Balloon Song, Guzz Up, Who's To Die, Elizabeth R, Frustration.
Peter Frohmader - Advanced Alchemy Of Music
1994
Nekropolis Records NCD 007
Track List:
Dragon's Treasure, Golden Dawn, Ken Of Saloman, Phaethon, La Foret du Perceval, Rose + Croix.
Review:
With a musical career that can be traced back to the roots of German Krautrock with bands such as Alpha Centauri and Electronic Delusion back in the early 70's, Peter Frohmader certainly has the credentials required for a genuine Krautrock heavyweight. Couple this with a prolific recording history that runs to at least 36 albums and you begin to get the picture.

Most of Peter's work is based on electronics and is all put together at his Nekropolis Studios in Munich, which if you look at his website is an Aladdins cave of analogue and digital recording equipment, keyboards, computers and miles and miles of cables and patch leads. Another of Peter's many talents is his artwork which is often very surreal and dark.

Advanced Alchemy Of Music is often referred to as a very good representation of Nekropolis (his gigging band) and is based on material recorded between 1992 and 1993 and comprises of six tracks composed using samplers, synths, 5-string and fretless bass guitars, electric guitar and 12-string guitar, all played by Peter.
Dragon's Treasure opens with some otherworldly chanting before breaking into a fast electronic barrage of sounds and unusual time signatures, the mood is dark and brooding as with much of this album and the whole thing has a sense of menacing darkness and eerie soundscapes. The sound is semi-structured and semi-improvised (some may even label this as Progressive) and works very well if Krautrock is your bag.

Golden Dawn starts off with some gentle acoustic guitar and and electronic drum beat and at 2:29 adopts a menacing gait with bursts of electric guitar and builds up in complex layers before mellowing out again towards the end.
Enter the dark, mystical and terrifying world of Peter Frohmader and enjoy the ride...
http://www.peterfrohmader.de
Reviewed by pOoTer - May 2002
Frost, The - Frost Music
1969
Vanguard SVRL19052
Track List:
Jennie Lee, The Family, A Long Way Down From Mobile, Take My Hand, Mystery Man, Baby Once You Got It, Stand In The Shadows, Little Susie Singer (Music to chew gum by), First Day Of May, Who Are You?
Review:
Frost were a couple of Michigan-based rockers with a psychedelic edge to their sound. Their first album contains some great music and dazzling guitar tricks, forget the other albums(they made 3 albums I believe). "Take my hand" is the first track that really catches the ear(the 4 th song on side one) with some great guitar gymnastics from Dick Wagner(later teamed up with Alice cooper, and played on Lou reed albums), they split your mind in all the four wind directions. Next is "the mystery man", which kicks of with some a capella vocals singing to us"Pom popo Pom po po….. Here comes the mystery man", and then, well, there's Dick again with his furious axe.

The second track of side two called"Stand in the shadows" , is a long track where Dicks guitar is accumulating with the acid clouds of those times, impressive stuff indeed, and prophetic lyrics! Probably pulls out every trick he has learned to play on his guitar on this song. Good job Dick, the rest of the band are pretty solid musicians too. then it's time for "The first day of may" which has a great refrain And some pretty lose musicianship from the band and great lead vocals..

The last song of the album, "Who are you?" is a killer too with some strong vocals and some furious guitar work from Dick..

Defenitly an underrated album, check it out.
Reviewed by Joël van Roode (Celebrate your ears) - May 2002
Frumious Bandersnatch - A Young Man's Song
1996
Big Beat CDWIKS 169
Track List:
Medley: You Gotta Believe/Judgement Day, Chain Reaction, Rosemary's Baby, What Is Bandersnatch?, Woodrose Syrup, Now That You've Gone, 45 Cents, Pulpit Huff, Paper, Cheshire, Black Box, Can-a-Bliss.
Funkadelic - Free Your Mind and Your Ass Will Follow
1970
Westbound CDSEWM 012
Track List:
Free Your Mind and Your Ass Will Follow, Friday Night, August the 14th, Funky Dollar Bill, I Wanna Know If Its Good To You?, Some More, Eulogy and Light.
Review:
Coming hot on the heels of their sublime self-titled debut of stoned blues grooves and predating the funky acid rock of their masterpiece third album (Maggot Brain) by mere months "Free Your Mind and Your Ass Will Follow" perhaps remains the most disturbing, yet compelling listening experience Funkadelic recorded. Gone were the warm guitar licks and deep resonating bass-lines of the debut, replaced by an unsettling metallic coldness to the guitars and keyboards.
George Clinton's confessed approach to record production simply involved lots of acid and "turning the knobs in the studio" which is exactly where we find him at the beginning of the title track opener, a funky evangelical mantra preached over electronic bleeps, icy shard-like organ notes and Ed Hazel's breathtaking guitar soloing. Although tempting as it is, comparing Hazel with Hendrix is a cliché, and as pointless as comparing Dali with Michaelangelo. Hazel's soloing provides a tension building backing to an increasingly hysterical chant that gives way to a funky keyboard riff that suddenly without warning warps, distorts and pans giving the listener a feeling of spinning disorientation, this is augmented by Hazel returning the riff on guitar.
This is probably one the trippiest moments ever committed to vinyl.
Next up, back on Earth for the funkiest track on the album "Friday Night, August the 14th", dripping with cool and built on swathes of wah-wah, with a riff reminiscent of "Foxy Lady" this is a hedonistic headrush of excitement before a lost weekend. The next track "Funky Dollar Bill", that is probably the weakest, combines social comment with a "cockney knees-up" piano sound, may have orked for the Small Faces but definetly not these guys. Sanity and cool is restored with "I Wanna Know If Its Good To You?" that showcases some empassioned soulful vocals and reintroduces the ice shard organ sounds of the title track to full spaced-out effect. "Some More" is a bouncy lysergic blues track with otherworldly vocals. Finally in comes "Eulogy and Light", to most this will come across as ludricrous self-indulgence, however this tracks saving grace for me is the ghostly gospel vocals spun backwards, worth a listen if only for that.
Admittedly this album contains some weak moments that reflect the chemical excesses of its creators but it remains a trove of all-out deranged weirdness and psychedelic genius. This was a trip to the darkside that Funkadelic were never to repeat with such ferocity, although its echoes can be still be heard in its follow up "Maggot Brain".
Reviewed by Simon Allen - November 2002
Fuzztones - Leave Your Mind At Home
1984
Midnight MIRLP 105
Track List:
Voices Green And Purple, Blackout At Gretely, No Friend Of Mine, We're Pretty Quick, Flash On You, The Bag I'm In, You Burn Me Up And Down.
Review:
Live almost human and direct from the American midwest circa 1984, careful this does not kill you, 'cos this is sharp!!

The definitive Fuzztones LP comes at you from a dark and evil place and rocks you out. The songs on this LP are played with such awesome power that you cannot fail to be blown away.........Black Out At Greteley mutates into No Friend Of Mine which will tear you apart, Were Pretty Quick is mad bad and fast and You Burn Me Up An Down will chew you up and spit you out in hot steaming chunks.

One of the best live records I own and one tha perfectly captures The Fuzztones on absolute top form.
Play this at the highest volume available and remember Ambulances & Nurses are on call at all times...
Reviewed by pOoTer
Fuzztones - Lysergic Emmanations
1985
ABC LP4
Track List:
1 2 5, Gotta Get Some, Journey Tyme, Ward 81, Strychnine, Radar Eyes, Cinderella, Highway 69, Just Once, Shes Wicked, As Times Gone, Living Sickness, Bad News Travels Fast, Green Slime.
Review:
Original 60's Punk....80's style, these guys really rock!. Hailing from NY, USA This is the Fuzztones truly awesome debut LP and it takes no prisoners. Re-working punk classics such as the Haunted's 1-2-5 in blistering style and a cover of The Cramps classic Human Fly that is after the blood of the original!!!.

The sound is truly authentic through the use of Vox guitars and Farfisa organ and anyone lucky enough to have seen these guys will testify to their awesome live sound.

The Cramps meets Swamp Thing on DMT..........say no more....!!!!
Reviewed by pOoTer
Fuzztones - Flashbacks
1986
ABC
Track List:
1-2-5, Nine Months Later - (alternate take), Heathen Set - (alternate take), Action Speaks Louder Than Words, I Never Knew, Bad News Travels Fast - (alternate take, John Peel session), Charlotte's Remains - (alternate take), Ward 81, Strychnine, In Heat - (alternate take), All The King's Horses, Rise - (alternate take), Down On The Street, Look For The Question Mark, She's My Witch, Blue's Theme, Blood From A Stone - (previously unreleased), Hurt On Hold - (alternate take), Romilar D - (alternate take), I'm The Wolfman, She's Wicked - (alternate take, John Peel session), Cinderella - (alternate take, John Peel session).
Fuzztones - Bad News Travels Fast
1986
ABC S011T
Track List:
Bad News Travel Fast, As Times Gone, Green Slime, Strychnine.
Review:
Out For Kicks..........In For Trouble, another quality pice of vinyl from New Yorks finest. Bad News Travels Fast produced for John Peel on Radio 1 in the UK. Four choice cuts including an excellent cover of Strychnine and Green Slime.
Reviewed by pOoTer
Fuzztones - In Heat
1989
Situation Two SITU 23
Track List:
In Heat, Nine Months Later, Cheyenne Rider, Everything You Got, Black Box, Shame On You, It Came In The Mail, Me Tarzan You Jane, Heathen Set, Hurt On Hold, What You Dont Know, Charlottes Remains.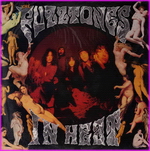 Fuzztones - Salt For Zombies
2003
Sin Records 001
Track List:
My Brother The Man, Get Naked, Face Of Time, Be Forewarned, Jonson In A Headlock, This Sinister Urge, Black Lightning Light, Idol Chatter, Hallucination Generation, A Wristwatch Band, Group Grop, Don`t Blow Your Mind, What Ever Happened To Baby Jesus?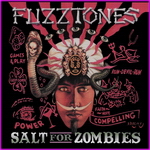 Review:
The infamous Fuzztones are back with the most blistering, raw, punked-and-psyched-out album i`ve heard in a long time, "Salt For Zombies" is their first studio release in 13(!) years.

Rudi and Batlord spent about 9 months mixing the new opus. The end result is a skilfully constructed, fuzz-drenched sonic excess that continues the best traditions of the amazing Lysergic Emanations LP.
Every track is full of maniac guitar riffing, raunchy monster fuzz, tribal drums, swirling combo organ and mind- blowing lead vocal.
This record has all the wonderful qualities that make an album outstanding in my book: an immense emotional depth, frenzied power of playing, untaimed attitude and that rawness `tones are famous for.

The album serves up a fantastic mix of mostly obscure `60-s covers and original tunes. Every cover, however, sounds like originally written: that special treatment Fuzztones give a song when covering it produces a geniune blend of punky "evil" energy, sinister voodoo trippiness and stunningly authentic `60-s feel.
All arrangements are tight and energetic, there is no dead weight on this cd. Every song rocks, yet every song has its psychedelic moments. The album is fuzzed out and furious, it is bad, mad, sexy, dark, weird...
Rudi Protrudi - one of the most charismatic voices (and personalities) of the whole garage revival scene is tremendous on lead vocal, from seductive whispering to the primal scream - this guy has it ALL.

The album starts off with the rocking Prunes cover My Brother The Man. This fast, raving piece is guaranteed to rip bursts of adrenalin out of a listener with its razor fuzz, maniac lead vocal and tasty, stylish organ solo.
The second track Get Naked is a way slower, with Sky Saxon on guest vocals. An invitation to undress your psyche and get ready for the madness which begins to reveal itself now in the third tune Face Of Time. This raunchy fuzz monster will put you into the right mood for one of the highlights of this album: Be Forwarned.

This fantastic cover (originaly performed by Macabre) deals with a sinister love obsession and the Fuzztones version matches the subject matter perfectly. Rudi`s haunting voice emphasized by the ghostly backing vocals, loads of scary echoey effects excellently merged with the awesome fuzz, relentless lead guitar solos, vibrating organ chords - all that dark splendor creates a foreboding, despairing but yet rebellious feeling that goes straight to the bone.....Overwhelming!!
But there is no room for revelling in sorrow on this powerful album! Here, ladies and gentelmen, comes Jonson In A Headlock - a delicious original highly rated by many fans. It`s an up-tempo rocker, a track you can`t help thinking to yourself: "these guys& gals know how to rock`n`roll" while listening to it. It sounds fresh and vital and has a lot of that special edge and rawness which make rock`n`roll so daring, so untaimed, so...plainly wyld. The track starts out with a sharp, cheeky organ solo followed by fuzz- crunching guitar. A short but brilliant break in the middle with its fat drum section, wickedly-sweet background vocals and smart harmonica solo gives this song some sexy-teasing touch...Feel it - till the dark madness starts to creep in again.
This Sinister Urge is coming now, a heavy track, anxious and angst ridden, dealing with nightmarish serial killer fantasies. This (surprisingly) melodic tune takes a listener aback with unexpected pace changes in refrain where evocative lead vocal mutates suddenly into a sort of prehistoric scream while guitars explode with raw, "primitive" fuzz. This song shows you some dark corners of the psyche, corners we`d rather not to think about...where the Black Lightning Light is born. It is an another astonishing cover (original by the Shy Guys). This song displays the psychedelic side of the `tones.

Although it begins as a fast, up-tempo adrenalin pumper with heavy driving lead fuzz and swirling organ, at 3.15 the track turns to psychedelia. An instrumental break that comes now has everything: Relentless, menacing blistering guitar work, acid fuzz, trippy electronic gimmicks combined with trancey beats and echoey backing vocals - a wierd mixture that produce dark sonic masses laden with a tormenting sense of foreboding and delivered with an unspeakable power.......Mind- blowing!!!.
Next track is entitled Idol Chatter. It`s a wonderful original tune written by the Fuzztones drummer Andrea Kusten. This wickedly-mellow, chilling song has a strong voodoo flavour with its shamanic drums and amazing, at times sitar-like soundig guitar.

After this piece of voodoo trippiness welcome to the dark side of fuzz! Hallucination Generation - a heavy acid song by maestro himself, revealing his psyched-out depths under the grungy surface. A brain-melting track with sraight, strong fuzz guitar, vibrating organ solo and hypnotic lead vocal.... Dangerous!
Then there comes a Wristwatch Band - a psychedelic ballad originally written by the Boss Tweed. It`s a very melodic tune that has some sad mood about it, wonderfully expressed through the beautiful, warm and strong Jim Morrison-like lead vocal. This track is kind of multidimensional, revealing itself in waves, getting deeper and deeper with every listenig.

Just few moments later the listener is blown away by the fast, loud hair-shaker Group Grop. OK, juridical it`s a cover (orig. by the Fugs on their 2-nd album), but the `tones version sounds so much better, that in this case i might have to admit they made a really good...songwritng. This crazy piece is an explosion of wild punky energy, overflowing with killer beat, mad, tight organ attacks and frenzied guitar riffing..... Seductive!
And how can i forget the Little Steven`s fave Don`t Blow Your Mind? I love this fabulous mixture of furious, hard, sweating rock`n`roll and psychedelic weirdness. This song has a truly "black", rebellious attitude! You can feel the frantic energy wildly pulsating through this tune. The pace changes and the great "live" effect of a mad crowd raving in the background are my personal highlights on this adrenalin pumper.....Over-groovy!
The last track on this cd, named What Ever Happened To Baby Jesus? is probably the most haunting song of this first-class album. It`s a slow burner, but it displays emotional depths close to insanity. It starts off kind of unearthly with foreboding church-like organ chords. Then droney, menacing, dripping bass comes in, hypnotizing a listener into a deep, dark trance. Furious, sinister effects laden fuzz and brilliant blistering lead guitar spiral maniacally upwards to the upmost limits of perception, making their way through the dark, shimmering walls of mighty rhythm section and other-wordly digital wizardery.

All that scary-but-overwhelming abundance is crowned by the mesmerizing lead vocal: Howling, moaning,
screaming and whispering, Rudi exposes his inner self to the world with an intensity of a madman, ripping your chest apart and burning your heart off........Breathtaking!!
This fuzzed-out black pearl of an album is absolutely essential for every fuzz-devotee!
It is available only as cd on the Fuzztones official website
www.Fuzztones.net - Get it!
Review submitted by Anmaro6 - January 2004