Halfway To Gone - Second Season
2002
Small Stone Records SS-030
Track List:
Great American Scumbag, Already Gone, Black Coffy, Escape From Earth, Thee Song, Whiskey Train, Brocktoon's Wake, Outta Smokes, LOne Star Breakout, Never Comin' Home, Tryptophan.
Review:
Halfway To Gone are a three piece from New Jersey led by songwriter, vocalist and bass player Lou Gorra and play good 'ol hard American rock in a style similar to their label mates The Glasspack that on occasion strays dangerously close to what many would call Metal. They do however regularly get into a good solid heavy groove (Thee Song) and even venturing into more spacier realms such as the cosmic blues shuffle 'Tryptophan.
Following this is an unlisted acoustic guitar and keyboard ballad' completely unlike anything else on the album.
I would guess we will be hearing more from these guys as they what they have to offer is not your standard run of the mill Stoner/Hard Rock and does show considerable skill that should set them apart from the myriad 'Head down and thrash' bands currently plying their wares on the so called Stoner Rock circuit.
Reviewed by pOoTer - November 2002
Hangman's Beautiful Daughters, The- The Hangman's Beautiful Daughters
1989
Voxx VXS 200.049 (LP) (US)
Track List:
Love is blue, They fell for words..., Don't ask my name (just call me Jack), Somethin' about today, Jonathan, Out of my head, Popular trend, Dark side, Pushing me too far, Cat's got 9.
Review:
The Hangman's Beautiful Daughters began playing in 1985 at the subway of the Ambulance Station in London. They released a 4track EP titled "Love is blue" and the mini-LP "Trash mantra" through Dreamworld Records; this dazzling anthology consists of both issues. While Sandy and Gordeen
embroider jingle-jangle atmospheres, Emily sings folk-melodies with punk ardour: the outcome is marvellous!
Submitted by Roberto from THE WRONG WAY November 2000
Hapsash and the Coloured Coat - Featuring the Human Host & The Heavy Metal Kids
1968
Drop Out DO SP 2001 (re-release)
Track List:
H-O-P-P-W-H-Y, A mind blown is a mind shown, The new messiah coming 1985, Aoum, empires of the sun.
Harlequyn - The Order of the Golden Dawn
1989
Voltage VLP 14
Track List:
Glass island, Love leaves, Catch, Oversoul, Enchantment child, Ghost.
Review:
Harlequyn... a fleeting comet appeared on the firmament of UK psychedelia: metallic cascades and such glam voice lead to a different space-temporal dimension, in the court of a crimson king...
Hash Jar Tempo - Well Oiled & Under Glass
1995 & 1999
Drunken Fish Records DFR-24 & DFR-44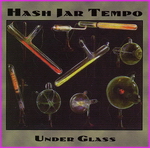 Track List:
Well Oiled: All seven songs listed as "Untitled"
Under Glass:
Praludium Und Fuge. D-Moll, Labiomancy, Sources In Cleveland, Hymenoptera in Ameber Crybaby, Atropine, In The Cell's Of Walken's Corti, Gravitational Lens Opera.
Review:
This review is actually of two different albums by Hash Jar Tempo. I have chosen to review them as one as they are quite similar in nature. Hash Jar Tempo is just one of the Bardo Pond's many side projects (and in my eyes, their best).
Musically these records are melodically heavy, but not as chunky or visceral as the Bardo Pond tend to be. Both albums were organised by NZ psychster and Pond fan, Roy Montgomery who suggested a bit of an impromptu jam session with The Pond and "hey, lets hit the record button and see what happens".
Thank your lucky stars they did just that. What you get on both of these albums is pure unadulterated psych guitar from the Gibbons brothers who play, and play and play. No lyrics, just long brooding tracks and guitar work as thick as the bong smoke it was conceived out of. Both albums consist of well over an hours worth of seriously heavy, droney psych. "Well Oiled" perhaps receives my nod for being the better of the two and for fans of heavy drone music/long guitar jams you need to look no further than these suckers.
Reviewed by BlueMagoo - 20th September 2002
Well Oiled: 4 Sugar cubes
Under Glass: 3 Sugar cubes
Hawkwind Zoo - Hurry On Sundown
1969
Flicknife FLEP 100
Track List:
Hurry On Sundown, Sweet Mistress of Pain, Kings of Speed.
Hawkwind - Hawkwind
1970
Liberty LBS 83348
Track List:
Hurry on sundown, The reason is, Be yourself, Paranoia, Seeing it as you really are, Mirror of illusion.
Review:
The album is a brilliant combination of Psychedelic Space Rock with touches of eerie paranoia mind altering joy!!!

5/5 peace pipes!

Reviewed by Michael W Blackman
Hawkwind - In Search Of Space
1971
United Artists UAG 29202
Track List:
You shouldnt do that, You know youre only dreaming, Master of the universe, We took the wrong step years ago, Adjust me, Children of the sun.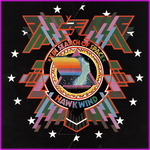 Hawkwind - Doremi Fasol Latido
1972
United Artists UAG 29364
Track List:
Brainstorm, Space Is Deep, Down Through The Night, One Change, Lord Of Light, Time We Left This World Today, The Watcher.
Review:
The first Hawkwind album to feature Lemmy, this is the Space Ritual era line-up in the studio, at their juddering space rock best.

Nik Turner's 'Brainstorm' starts proceedings, a tale of disorientation and the 'paranoia police', then Brock's 'Space Is Deep' merges acoustic and electric. 'Lord of Light' starts part two, followed by the hypnotic 'Down Through The Night'. 'Time We Left' is simply mind-blowing, while Lemmy's 'The Watcher' ends the album on a note of detached dementia.

Powerful stuff....
Reviewed by Dr. Sandoz
Hawkwind - Space Ritual 1
1973
United Artists UAG 60037-8
Track List:
Earth Calling, Born To Go, Down Through the Night, The Awakening, Lord of Light, The Black Corridor, Space is Deep, Electronic No 1, Orgone Accumulator, Upside Down, 10 Seconds of Forever, Brainstorm, 7 By 7, Sonic Attack, Time We Left This World Today, Master of the Universe, Welcome to the Future.
Reviews:
Recorded live in Brixton and Liverpool in 1972, the double album represents the classic line up at their very best. Calvert provides the poetry (& swazzle); Lemmy and Simon King the ultimate space-rock rhythm section, Dik Mik and Del Dettmar the electronic wizardry, Turner Sax, Flute and possibly the mightiest ever version of Brainstorm and Brock holds it together with awesome rhythm AND truly cosmic lead guitar.
Riding high after the success of the Silver Machine single, the band are free to fully realise a futuristic concept album, without ever falling into self-indulgence. Highlights include Born To Go, Down Through The Night, Orgone Accumulator, Sonic Attack, Time We Left and Master Of The Universe, but for best results listen to the whole thing end to end.
The greatest space-rock album of all time?
Reviewed by Dr. Sandoz - November 2001

One of the all-time classics of psychedelia, this double live album was recorded by the classic early 70s line-up that included Brock, Turner, Lemmy, Calvert plus a couple of electronic freakout merchants (Del Dettmar and Dik Mik) and the thunderous rhythm hyperdrive of drummer Simon King.
The music is simultaneously tribal and hypnotic, and as spacey as the cosmos itself- thanks to layers of swirling electronics and massively groovy sci-fi themes. It's packed with classics, although my personal favourite is "Orgone Accumulator", where Bob Calvert's supercool delivery of his inspired lyrics is coupled with some of Lemmy's most powerful bass work, the net effect being True Greatness.
An essential album.
Reviewed by Quicksilver Tongue May 2001
Hawkwind - Space Ritual 2
1972
APK
Track List:
Orgone accumulator, Sonic attack, 10 seconds of forever, Master of the universe, Brainstorm.
Hawkwind - Hall Of The Mountain Grill
1975
United Artists UAG 29672
Track List:
Psychedelic Warlords (disappear in smoke), wind Of Change, D-Rider, Webweaver, You'd Better Believe It, Hall Of The Mountain Grill, Lost Johnnie, Wind Of Change, Goat Willow, Paradox.
Review:
Named in honour of the bands favourite Ladbroke Grove cafe, this album marked the departure of Dik Mik and the arrival of ex High Tide & Third Ear Band violinist/Keyboard player Simon House.

After the mind blowing power of Space Ritual this the beautiful, melancholic comedown The Psychedelic Warlords (Disappear in smoke) begins the album and a funky Lemmy bass improvisation (!) builds to a peak and is followed by the classic chord changes of Wind Of Change - 5 minutes of bliss. Other key tracks include Lost Johnny (co written by Lemmy and Mick Farren), Nik Turner's eastern tinged D-Rider and Brock's Paradox.

There are three mellow instrumentals as well, including Del Dettmar's final work for Hawkwind, Goat Willow. A subtle multi-faceted album, displaying a different side to the Hawkwind sound, with the atmospheric keyboards of Del Dettmar and Simon House to the fore.
Reviewed by Dr. Sandoz - November 2001
Hawkwind - Warrior On The Edge Of Time
1975
United Artists UAG 29766
Track List:
Assault and battery, The golden void, The wizard blew his horn, Opa loka, The demented man, Magnu, Standing at the edge, Spiral galaxy 28948, Warriors, Dying seas, Kings of speed.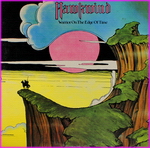 Review:
Hawkwind at their best ? (excluding Space Ritual perhaps....). Classic material from their best period?...perhaps...some of the tracks on here take some beating, personal faves being Opa Loka, Magnu and Warriors.
Reviewed by pOoTer
Hawkwind - Astounding Sounds And Amazing Music
1976
Charisma CDS 4004
Track List:
Reefer Madness, Steppenwolf, City Of Lagoons, The Aubergine That Ate Rangoon, Kerb Crawler, Kadu Flyer, Chronoglide Skyway.
Review:
Lemmy has left with a bad case of White Line Fever, Bob Calvert is back, there's a new record label and a new direction with Pink Fairy Paul Rudolph's funk influenced bass lines. 'Reefer Madness' is tongue in cheek drug horror, 'Steppenwolf' is Calvert's homage to Hermann Hesse and Nik Turner hits the trail to Katmandu in 'Kadu Flyer'.

More line up changes would follow, so this unique sound experiment would never be repeated.
Reviewed by Dr. Sandoz
Hawkwind - Quark Strangeness and Charm
1977
Charisma CDS 4008
Track List :
Spirit Of The Age, Damnation Alley, Fable Of A Failed Race, Quark Strangeness and Charm, Hassan I Sah Ba, The Forge Of Vulcan, Days Of The Underground, Iron Dream.
Review:
The first post-Turner LP, but Calvert is on his most wired, top form. 'Spirit Of The Age' is a wry letter home from the other side of the universe, 'Damnation Alley' evokes Zelazny's post-apocalyse nuclear wasteland and the title track is a snappy poke at Einstein and boffins in general. 'Fable of a Failed Race' and 'Days of the Underground' look back to the high times of the counter-culture.

A great album, with the band adapting with ease into the post-punk world.
Reviewed by Dr. Sandoz
Hawklords - 25 Years On
1978
Charisma CDS 4014
Track List:
Psi Power, Free Fall, Automotion, 25 Years, Flying Doctor, The Only Ones, The Dead Dreams Of The Cold War Kid, The Age Of The Micro Man.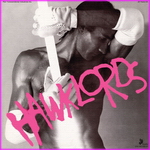 Review:

What you tend to find with all Hawkwind albums between 'Doremi' & 'Levitation' is that every one, whilst being undeniably Hawkwind, is completely different in style & the Hawklords album (name changed briefly due to legal wranglings at the time) is no exception. Calvert is on top form lyrically & whilst the whole album retains something of a mellow feel the opening tracks of both sides (Psi Power & Flying Doctor) utilise the classic Hawks power chord formula to great effect (check out the live version of Psi Power on the 'This is Hawkwind ...Do Not Panic LP!).
Perhaps lacking the musical intricacies of 'Astounding Sounds', '25 Years On' has a much fuller feel to it, simple song structures backed up with complicated (& dare I say funky?!) bass riffs & great keyboard parts. Whilst individually many of these tracks probably wouldn't make it into your average Hawkwind top 20, as an album it really works & is certainly superior to 'PXR5' & 'Quark' in that respect.
Calvert's lyrics at times really do capture the time in which they were written, most notably perhaps on '(Only) the Dead Dreams of the Cold War Kid'.
Due to the departure in style it's hard to rate it next to other Hawkwind albums, let's just say it's not out of place with earlier offerings & it probably surpasses much of the later recordings!
Reviewed by Andy Goblin - November 2002
Hawkwind - PXR 5
1979
Charisma CDS 4016
Track List:
Death Trap, Jack of Shadows, Uncle Sams on Mars, Infinity, Life Form, Robot, High Rise, P.X.R.5.
Hawkwind - Live '79
1979
Bronze BRON 527
Track List:
Shot down in the night, Motorway City, Spirit of the Age, Brainstorm, Lighthouse, Master of the Universe, Silver Machine.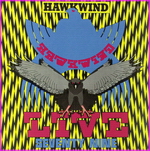 Hawkwind - Levitation
1980
Bronze BRON 530
Track List:
Levitation, Motorway City, Psychosis, World Of Tiers, Prelude, Who's Gonna Win The War, Space Chase, The 5th Second Of Forever, Dust Of Time.
Hawkwind - Sonic Attack
1981
RCA LP 6004
Track List:
Sonic Attack, Rocky Paths, Psychosonia, Virgin of the World, Angels of Death, Living on a Knife Edge, Coded Languages, Disintegration, Streets of Fear, Lost Chances.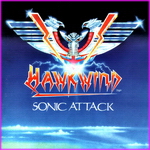 Review:

Sadly after a decade of tremendous output, this album was Hawkwind's first below par LP and was the beginning of their musical decline into mediocrity. Living On A Knife Edge was the only track to stand out, the remaining tracks displayed little of Hawkwinds ingenious noise creation of previous albums. Safe to say any album prior to this one was a great buy, any after was risky to say the least.

I still made a pilgrimage each year to see them live but by the end of the 80's they really were a spent force.
Reviewed by Colin - April 2003
Hawkwind - Church Of Hawkwind
1982
RCA LP 9004
Track List:
Angel Voices, Nuclear Drive, Star Cannibal, The Phenomenon of Luminosity, Fall of Earth City, The Church, The Joker at the Gate, Some people Never Die, Light Specific Data, Experiment With Destiny, The Last Messiah, Looking in the Future.
Hawkwind - Choose Your Masques
1982
RCA LP 6055
Track List:
Choose Your Masques, Dream Worker, Arrival In Utopia, Silver Machine, Void City, Solitary Mind Games, Fahrenheit 451, The Scan, Waiting For Tomorrow.
Hawkwind - Zones
1983
Flicknife Sharp 014
Track List:
Zones, Dangerous Vision, Running Through the Back Brain, The Island, Motorway City, Utopia, Social Alliance, Sonic Attack, Dream Worker, Brainstorm.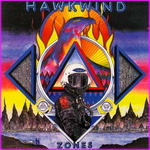 Hawkwind - This Is Hawkwind Do Not Panic
1984
Flicknife Sharp 022
Track List:
PSY Power, Levitation, Circles, Space Chase, Death Trap, Angels of Death, Shot Down in the Night, Stonehenge Decoded, Watching the Grass Grow.
Hawkwind - Chronicles Of The Black Sword
1985
Flicknife Sharp 033
Track List:
Song of the swords, Shade gate, Sea king, Pulsing cavern, Elric the enchanter, Needle gun, Zarozinia, Demise, Sleep of a thousand years, Chaos army, Horn of destiny.
Review:
Hawkwind seemed to have lost their sense of direction a bit before this release, but Black Sword saw them with renewed vigour and this is a blistering testimony to that. Based on the Michael Moorcock eternal champion character Elric of Melnibone and pulsing with dark evil forces this was late 80's Hawkwind at their best, demonic voices and pounding guitars and bass.
Sure I will probably take some flak for this, but hey what the hell......submit your review in defense!!
Reviewed by pOoTer.
Hawkwind - Valium Ten (EP)
1981
Flicknife EP 205
Track List :
Motorhead, Valium Ten
Haymarket Square - Magic Lantern
1968
Gear Fab
Track List:
Elevator, Train Kept A-Rollin', Ahisma, Amapola, Phantasmagoria, Funeral.
The Head Shop - Same
1969
Epic
Track List:
Head Shop, Heaven Here We Come, Sunny, Elliptical Machines, Opera In The Year 4000 (Where Have All The People Gone?, Yesterday), Revolution, I Feel Love Comin' On, Prophecy, Infinity.
The Heads - Relaxing with...
1995
Headhunter 001
Track List:
Quad, Don't Know Yet, Chipped, Slow Down, U 33, Television, Woke Up, Widowmaker, Taken Too Much, Coogan's Bluff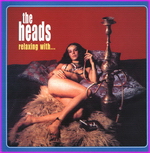 Review:
Quad opens up like a youthful Hawkwind powered by an unhealthily large dose of DMT then falls back into a Stooges-esque punker. Into the garagey Dont Know It Yet with swirling guitars and a mean screaming harp, up into overdrive now for the Iggy sounding Chipped (but with a much heavier and raw edge). The Heads obviously have many influences, the aforementioned Stooges being one, Blue Cheer and the MC5.
They were probably weaned on Terry Brooks & Strange, The Scientists and Thee Hypnotics in equal measures...
I was expecting a more 'stoner' feel in the vein of Kyuss/Datura, but this is different and more varied. U 33 dives in and out of guitar mayhem with its unforgettable monster riff. Television, another heavyweight punker finishing with strange samples. Taken Too Much starts out in a more laid back style before changing gear into an excellent hypnotic grunge fest. Closing with Coogan's Bluff (from the movie?).
Relaxing With The Heads?.......i'd love to hear them active!!!
For those who like it Loud and Heavy.
Reviewed by pOoTer
The Heads - Everybody Knows We Got Nowhere
2000
Sweet Nothing Records SNCD007
Track List:
Legavaan Satellite, Thumbs, Fuego, Kraut Byrds, Could Be..., # '75, Wobble, Barcoded, Song No.1, My my, Stab Railroad, Chrome Plated, Motorjam, Dirty Water, Pill Jam, Long Gone.
Jimi Hendrix - Are You Experienced
1967
Track 612 001
Track List :
Foxy Lady, Manic Depression, Red House, Can You See Me, Love Or Confusion, I Don't Live Today, May This Be Love, Fire, Third Stone From The Sun, Remember, Are You Experienced.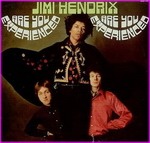 Jimi Hendrix - Axis Bold As Love
1967
Track 612 003
Track List :
Experience, Up From The Skies, Spanish Castle Magic, Wait Until Tomorrow, Aint No Telling, Little Wing, If Six Was Nine, You've Got Me Floating, Castles Made Of Sand, She's So Fine, One Rainy Wish, Little Miss Lover, Bold As Love.
Review:
This album is an essential component to the music collection of any self-respecting fan of psychedelic rock. While from a production and overall ambition standpoint the argument can probably be made that Electric Ladyland is THE Hendrix masterpiece, I find Axis to be the one release that I most often return to. One of the reasons has to be that it contains some of his best songwriting, especially with regard to lyrics, which tend to be overlooked in light of his prodigious talents with a guitar.

There are some great "story" songs here, like "Wait Until Tomorrow" and "Castles Made of Sand"," science fiction soundscapes like the opening cut "EXP", the classic freedom anthem "If 6 Was 9", and the first studio usage by Jimi of the wah-wah pedal in "Up From the Skies" and "Little Miss Lover". Glorious and inventive stuff, this is why his music will never die.
Submitted by Lawrence A. Strid
Jimi Hendrix - Smash Hits
1968
Track 612 004
Track List :
Purple Haze, Fire, The Wind Cries Mary, Can You See Me, 51st Anniversary, Hey Joe, Stone Free, The Stars That Play With Laughing Sams Dice, Manic Depression, Highway Chile, The Burning Of The Midnight Lamp, Foxy Lady.
Jimi Hendrix - Electric Ladyland
1968
Track 613 008/9
Track List :
And The Gods Made Love, (Have You Ever Been To) Electric Ladyland, Crosstown Traffic, Voodoo Chile, Rainy Day Dream Away, 1983 (A Merman I Should Turn To Be), Moon Turn The Tide...Gently Gently Away, Little Miss Strange, Long Hot Summer Night, Come On, Gypsy Eyes, The Burning Of The Midnight Lamp, Still Raining Still Dreaming, House Burning Down, All Along The Watchtower, Voodoo Chile (Slight Return).
Review:
The three studio albums from the Experience were memorable for different reasons:
Are You Experienced was raw and focused acid rock and Axis: Bold As Love showcased Jimi's considerable gifts as a lyricist. But Electric Ladyland was a sprawling exploration of the studio as a place to create what Jimi called "sound paintings" and, as such, this is Jimi's response to Sgt. Peppers which, quite obviously, he surpassed by far.
The flow of this album is excellent with many songs just flowing (man :-) ) into others.
It begins with the explosive "And The Gods Made Love"--good enough to make you peak without chemicals with its sloshy backwards voices being slowed down and speeded up. "(Have You Ever Been To) Electric Ladyland" is ultra spacey and yet soulful at the same time. "Crosstown Traffic" is a funky rocker which is an obvious choice for a single.
One of this album's greatest highlights, however, is "Voodoo Chile." With the help of Stevie Winwood on organ and Jefferson Airplane's Jack Cassady on bass, this is 15 minutes of THE most blissful and perfect psychedelic blues imaginable. The chemistry between Winwood and Hendrix seems so perfect that it makes you wish that Stevie had joined The Experience permanently.
"1983 (A Mermaid I Should Turn To Be)" and "Moon Turn The Tide...Gently Gently Away" should be considered as a single suite and is a magnificent 15 minute sci-fi epic. Psychedelic studio effects here are pushed as far as they can go and this one will get you floating and mighty tranced out.
"Little Miss Strange" is a nice psych-pop tune penned by Noel Redding, The Experience's bassist. "The Burning Of The Midnight Lamp" is psychedelic pop featuring harpsichord and wah-wah guitar; I think it might have been released as a single in 1967 before it ever appeared on an album. "Still Raining Still Dreaming" is a powerful jam between organ and Jimi's excellent wah wah scurrying back and forth between speakers.
The last two songs of this album deserve special mention. "All Along The Watchtower" is another fine example of Jimi doing a cover of someone else's work, here a Bob Dylan tune, but transforming and improving it so much that his version greatly overshadows the original and thereby becomes the version people most easily remember. (Jimi also did this with "Hey Joe" and Dylan's"Like A Rolling Stone.") And finally the album ends with one of Jimi's signature songs, the unforgettable and explosive "Voodoo Chile (Slight Return),
a song Jimi performed often in concert (but never playing it the same way twice).
This album gets my highest possible recommendation. If you don't like Electric Ladyland, you better go find yourself another genre! :-)
Reviewed by Acid Joe - August 2002
Jimi Hendrix - Live - Isle Of Wight `70
1970
Polydor
Track List :
Intro/God Save The Queen. Message To Love, Voodoo Chile, Lover Man, Machine Gun, Dolly Dagger, Red House, In From The Storm, New Rising Sun.
Jimi Hendrix - Band Of Gypsies
1970
Track 2406 002
Track List :
Who Knows, Machine Gun, Changes, Power Of Soul, Message To love, We Gotta Live Together.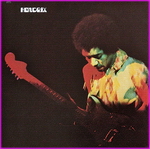 Combined review of Band Of Gypsies and Live At The Fillmore East
Jimi Hendrix - Band Of Gypsies (1970) / Live At The Fillmore East (1999)
Band Of Gypsies Track List :
Who Knows, Machine Gun, Changes, Power Of Soul, Message To Love, We Gotta Live Together.
Live At The Fillmore East Track List :

(CD #1) Stone Free, Power Of Soul, Hear My Train A Comin', Izabella, Machine Gun, Voodoo Child (Slight Return), We Gotta Live Together.
(CD #2) Auld Lang Syne, Who Knows, Changes, Machine Gun, Stepping Stone, Stop, Earth Blues, Burning Desire, Wild Thing.

Review:

These CD's together document Jimi's historic performances at the Fillmore East New Years Eve 1969 and New Years Day 1970.

Two concerts were given on each day. By then, The Experience had long since broken up (around June 1969) and this was his new band, the Band of Gypsies, comprised of himself, Buddy Miles on drums and vocals and Jimi's good friend, Billy Cox, on bass.

Average casual Hendrix listeners probably have had very limited exposure to his live material. Those who fit this category and have only heard, for example, the usual obligatory snippets of Jimi burning his guitar at the Monterrey Pop Festival or his playing The Star Spangled Banner at Woodstock are missing alot and simply can't fully grasp all he was capable of unless they dig alot deeper. This is their chance!

These CD's show Jimi at perhaps his most virtuousic playing live. The version of "Stone Free" is the most elaborate and the best version I've ever heard and clocks in around 13 minutes--vastly longer than the studio version. You'll get a kick out of the way he faked out the audience into applause thinking the song was over when there was alot more to come. Also, there are excellent versions of "Hear My Train A Comin' " and "Voodoo Child (Slight Return)." Of all the versions of "VC(SR)" I've heard, perhaps only the Woodstock version is more intense and frenzied.

Reading through the playlists for both albums reveals several apparent duplications, namely "Who Knows," "Power Of Soul,""Changes," "Machine Gun" and "We Gotta Live Together." With the exception of "We Gotta Live Together," any duplications are alternate versions, so there really is no excuse not to get both CD's--other than money! :-)

The most significant feature of these two albums is the triple-decker cranial feast of the various "Machine Gun" 's included herein. The first two versions are particularly noteworthy in how every single note, sound effect, etc. sound like what the song was about--replicating through sound the horrors of the Vietnam experience. Both have spectacular guitar solos, both of which are mega-hallucinogenic and terrifying. All three versions, especially the last one, also feature excellent feedback soundscaping with a mastery and control surpassing even "Third Stone From The Sun" and "The Star Spangled Banner"--a real treat and quite mindblowing to hear this done so well live.
Above all, these three "Machine Gun's demonstrate the seeming limitlessness of Jimi's improvisational imagination.
These CD's are highly, highly recommended!
Reviewed by Acid Joe - May 2002
Jimi Hendrix Experience, The - Live At Berkeley
2003
Track List:
Introduction, Pass It On (Straight Ahead), Hey Baby (New Rising Sun), Lover Man, Stone Free, Hey Joe, I Don't Live Today, Machine Gun, Foxey Lady, Star Spangled Banner, Purple Haze, Voodoo Child (Slight Return).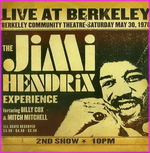 Review:
This excellent sounding new CD came out in the U.S. in September, 2003 to coincide with the DVD re-release of the prior Hendrix concert film "Jimi Plays Berkeley."
That film documented two performances given at the Berkeley Community Theatre on May 30, 1970. Along with the Band Of Gypsies (1970) and Live At the Fillmore East (1999) CD's, this present album represents Jimi playing live at his very best and it consists of his entire second set that evening in correct sequence.
(BTW there's no mistake calling Jimi's band as late as May of 1970 The Experience; Band of Gypsies broke up shortly
after the Band Of Gypsies album came out and The Experience reformed with Billy Cox replacing Noel Redding on bass.)
Portions of "Hey Baby (New Rising Sun)," "I Don't Live Today," "Machine Gun" and "Voodoo Child (Slight Return)" seen in the movie are from the very set documented in this CD so, if you saw the film, you know what you're in for. Excerpts from "Purple Haze" and "Star Spangled Banner" were in the film as well, but those versions came from the first set, so the versions on this CD are different.
Although this CD is great throughout, there are highlights: "Hey Baby (New Rising Sun)" here is a work in progress with a more spontaneous feel than the studio version on Rainbow Bridge (1971) and the solos are "indianized" and spacier.
"Stone Free" here has a blistering solo which, at its end, has the illusion of duelling twin guitars thanks to some effects. "Machine Gun," the ultimate antiwar song, is simply spectacular with a breathtaking solo that's guaranteed to leave your jaw dangling. And, finally, there's "Voodoo Child (Slight Return)," which is the longest, most intense
and best live version I've heard (and I've heard about 8 or 9 of them).
If you're really into Hendrix and you don't also take in his live stuff, you're missing alot. (I personally listen
to considerably more live Hendrix than his studio work).
This CD is incredible and I give it my highest recommendation.
Submitted by Acid Joe - February 2004
Jimi Hendrix - The Rainbow Bridge Concert (2 x disc Album)
2003
Radioactive Records
Track List:
Early Show: Lover Man, Hey Baby (New Rising Sun), In From The Storm, Message To Love, Foxy Lady, Hear My Train A-Comin', Voodoo Chile (Slight Return), Fire, Purple Haze
Late Show: Dolly Dagger, Instrumental, Ezy Rider, Red House, Freedom, Jam Back At The House, Land Of The New Rising Sun.
Review:

Ahhh…the Rainbow Bridge Concerts….The "holy grail" for Hendrix fans. Or is it?
There is no doubt that it certainly used to be as for years it was a must have show for collectors, traders and bootleg enthusiasts. Now that it has its official release (some 32 years after the event) it begs the question was it considered "the holy grail" due to the music contained within or because of its rarity? My vote goes to the latter.

The gig itself took place on the 30th July 1970. Chuck Wein filmed it, but much of the footage was left on the editing floor and the music used to supplement a corny and forgettable plot.
So what about the concert then? There's no doubt it obviously took place in a magical setting (Rainbow Ridge) overlooking the Hawaiian mountains and the Pacific Ocean. Only 400 people witnessed the gig and as Hendrix died shortly afterwards, it would be the last time many of these people would hear (or see) Jimi in action.

Two shows took place that day, and both are presented here in their entirety.

The early show consists of some old and new material. Some of it is, to be frank, rather sloppy ("Foxy Lady") and laboured ("Hear My Train A Comin'"). The highlight though is "Hey Baby (New Rising Sun)" which evolves into a chaotic version of "In From The Storm". Glimpses like these make you realise that when the three band members were in unison and harmony they were able to deliver a powerful and electrifying message.
Of the two shows presented it is the late show that is of particular interest. Hendrix is looser & funkier during the evening show and the new material sounds more fluid and less laboured. Hendrix is allowed to deliver these songs free of expectations and what we receive is some truly wonderful organic playing throughout the set. Over the many years I have listened to Hendrix I have actually grown to dig this later period over the earlier Experience era.

Through the numerous posthumous releases we all know where Jimi was headed with his music, and for me it was tight, expressive and surprisingly less confined than in previous years.
The Rainbow Bridge gig itself though is not one of Hendrix's best shows and I have definitely heard better versions of most of these songs, however if you are a fan of Hendrix you should certainly add this to your collection.
Reviewed by BlueMagoo - April 2003
Herd, The - Paradise Lost
1968
Fontana
Track List :
From the underworld, On my way home, I can fly, Goodbye groovy, Mixed up minds, Impressions of Oliver, Paradise lost, Sad, Something strange, On your own, She loves me, She loves me not, Fare thee well, Sweet William, Come on - believe me, I don't want - our loving to die, Our fairy tale.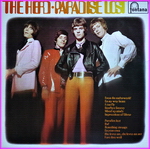 Herd, The - Looking Thru You
1968
Fontana
Track List :
I don't want our loving to die, Come on - believe me, Our fairy tale, On my way home, Goodbye, Groovy, From the underworld, Paradise lost, Sweet William, I can Fly, Understand me.
Heronimus Fin - Riding the Great Fantastic
1998
Garden Records GCD 003
Track List :
Purple Pictures, Steelball Wind, (I Just Want To) Sculpture You, Riding The Great Fantastic, Alice in Sunderland, I l Lost the Way, Fridge, Miles and Miles, The Tree Song, Secret Places, A Song fo the Sad, a Blow for the Mad and the Riverman Sings On, Lounge Roads.
Review:
The Birmingham band are continuing their magic flight through dream like places more so than in the past without diverting from their distinctive 60`s creative mix. On to the staggered dimensions of `Riding The Great Fantastic`, where we detect a guitar blended with keyboards that sweeps away any reference to rigid influences, showing a touch of "progressive Acid" not far removed from Hawkwinds heyday yet with their own clear identity.

From the crunching Psych of `Purple Pictures` to the Pepperesque `Lounge Roads` the album is a gem.
In effect it appears that H.F have transformed some of their energy to producing a sound which alternates between quieter moods and more energetic and stimulating sounds. Faced with this turn of style gone are some of the embellishments of the past, leaving room for the naked coherence of sounds...Meanwhile here and there emerge a freak orientated attitude with high communicative profile, after all the main characteristic of the CD is to give us a multicolour landscape and dreamy lyrics like "The Tree Song" with its amusing purity and almost flattering parody. Sinuous ballads emerge from nowhere like the verses and structure of "A Blow for the Mad, A Song for the Sad and the Riverman sings on" blossoms from a visionary Canterburian story.
The new Itinerary marked out by H.F finds a natural release in the anthem of "Lounge Roads" with its relaxed mood and is slightly evenescent in its chorality and intense poetry. These four English minstrels succeed once more to put together a treasure box full of intense and vibrant sounds.
What more can we ask for?
I`d give it a bowl full of sugar cubes me`self
Reviewed by The Rock Man - May 2002
High Tide - Sea Shanties
1969
Psycho 26 (reissue)
Track List :
Futilists Lament, Death Warmed Up, Pushed But Not Forgotten, Walking Down Their Outlook, Missing Out, Nowhere
Reviews:
Awesome late 60's UK heavy psych delivered with force!. Ex Misunderstood member Tony Hill and future Hawkwind member Simon House feature here, House's brilliant violin work doing battle with Hills guitar, making this LP something very different indeed. Futilists Lament and Walking Down Their Outlook are my personal faves.
Reviewed by pOoTer.
Review 2:
Imagine yourself as an octopus swimming in a kaleidoscopic ocean when out of nowhere a fisherman who shall be known as "High Tide" grabs you violently and throws you onto the deck. He walks calmly over to you, bends down, places his fingers under your gills and thumbs on top of your head, then with a sharp flick of the wrists, flips you inside out leaving you writhing in agony until you fade out. If that is not enough he then picks you up and thrashes your lifeless body against the deck to dispel your bodily fluids, is "High Tide really that merciless?
I'm afraid it is. I would list this under "psycho-delia".
It has some of the most manic guitar work I have ever had the pleasure of listening to, Peter Paulis relentlessly pounding bass riffs and pure balls out finger bleeding lead by Tony Hills which makes you feel like he's ripping out your sinews and using them as guitar strings, drums by Roger (must have 4 arms) Hadden and beautifully violent violinist Simon House (later of Hawkwind fame).
This is a 5 cube album not only for its orchestration but its unending power. Heavy psych in its purest form. Each time I play it I sit in awe at its ferocity then when its finished cherish the silence and tuck it up in bed alongside the MC5.
Since listening to this I went to see a shrink and he said the best way to calm down after this aural invasion is to become an axe wielding homicidal maniac.
Here comes a candle to light you to bed and here comes a chopper to chop off your head, chip, chop.
Oh yeah!! and the cover is cool too!!.
Reviewed by Sir Eel. September 2001
High Tide - High Tide
1970
Psycho 27 (reissue)
Track List :
Blankman Cries Again, The Joke, Saneonymous.
Review:
Once espoused by a person who cares as the culmination of true British Psychedelia, High Tide's eponymous 1970 album should be an essential purchase for anyone who really wants to understand just what happened to that lost generation of musicians.
Short answer: they fried.
At least that's the impression you get once you have listened to this album enough to discern the lyrics, an achievement in itself considering the intensity of the performance from messrs. Hill, House, Pavli and Hadden.

The first track, and there are only three so bear with me, relates how a group of young innocents enter a lost valley of delights, discovering for the first time the peculiarities of their "tasteless game". To emphasise the savagery of their discoveries the band enter into more than five minutes of constructive mayhem to finish the track off, Hill's talking guitar catching alight from the smouldering embers of House's violin.
The explosive (literally) finish of Blankman Cries Again evolves into the second refrain, entitled The Joke, a dark exposition of an apparently enlightened mind for whom the act of laughing "before the given time" is sufficient to condemn him. The fact that it "was his only crime" does not serve as retribution and the track concludes with an absolutely haunting violin coda, backed by Hill's constrained accompaniment; the final repeating stretch wholly suggestive of the traps to be sprung.

There is, of course, no evolution into the third track (it was, after all, on the other side of the LP), but it is a track that could only stand on its own. In four parts, it begins with what appears to be a live jam session, such is the apparent wildness, but a session that displays a solid undercurrent that provides its own progression.
As the first part fades, the second begins with what must be one of the classic guitar sounds from the era, before reaching Hill's voice, relating, or so it seems, some of their Puddletown experiences. (For Puddletown See Rustic Rod's Aching Cellar). The conclusion to the second part is in relative terms a constrained affair, akin to the closing codas of The Joke, and, when it fades out, the band reintroduce the same wild jam seen in the first part.

The same but different and more wild, reaching a crescendo very much akin to a classical concerto, but played, it should be remembered, at great risk to their equipment. The final haunting part starts exactly like the the second, Hill's ringing guitar work echoing around Hadden's drum syncopation.
In some respects, it's a comforting sound, but once Hill relates the second verse, and the full implications of the game is placed before you, it is truly heart-rending. The final refrain to "smile when you say you've reached me again." is, on the surface, confusing, until you work out the type of affliction that might bring it forth. With that jolt, Hill's climactic guitar work to finish the album hits home like a bullet.
There are, in my humble opinion, very few guitar solos that could top what Hill achieves in that last stretch. Maybe Hendrix's Bold As Love track, maybe Gilmour's searing work on The Narrow Way Part 3. Very few, and those that do compare certainly don't carry the same weight of emotion.
As a postscript it should be noted that High Tide's drummer Roger Hadden is still classed as "Missing in Action". One more lost talent.
Get hold of this album. As an original LP (if you wish to part with a few hundred quid), as a Pyscho Reissue (no doubt costing tens of quid by now) or more easily as a CD.
Whichever you wish, but buy it. If only to look at the cover art.

Reviewed by Seddyward - April 2002
High Tide - Sea Shanties/High Tide (2 albums on one CD)

EMI Mid Price CZ530
Track List :
1) Futilists Lament, Death Warmed Up, Pushed But Not Forgotten, Walking Down Their Outlook, Missing Out, Nowhere 2) Blankman Cries Again, The Joke, Saneonymous.
Review:
Sea Shanties (1969) and its eponymous follow up (1970) were the first two releases by British group High Tide, these long deleted albums have now been repackaged onto a single CD. They sound like a hybrid of Black Sabbath and Hawkwind with violin instead of sax, indeed the front line of guitar and violin in this sort of heavy rock context is almost unique.
Guitarist Tony Hill, with a talent for oblique melodies and lyrics, is the main songwriter, but without doubt the outstanding musician is violinist Simon House, his playing on these sessions shows none of the folk or jazz clichés that rock violinists so readily use. For energy and inventiveness I would compare him to Ray Schulman of the late lamented Gentle Giant.
Simon House's post High Tide career took him to the Third Ear Band, Hawkwind, David Bowie circa Lodger, and various solo projects. The powerhouse rhythm section of Peter Pavli (bass) and Roger Hadden (drums) ensured that the mighty High Tide took no prisoners!
The original Sea Shanties comprised six tracks, five featuring Tony Hill's Jim Morrison influenced vocals plus Death Warmed Up, an extended instrumental work out, apparently an on-stage favourite. The second album, imaginatively titled High Tide, has three longish tracks and includes The
Joke, their most sophisticated composition.
Crank up the volume and enjoy.
Reviewed by Zygny - November 2001
Steve Hillage - Fish Rising
1975
Virgin
Track List:
Solar Musick Suite: sun sing, canterbury sunrise, hiram aftergold meets the dervish, sun sing reprise. Fish, Meditations Of The Snake, The Salmon Song: salmon pool, solomons atlantis salmon, swimming with the salmon, king of the fishes. Aftaglid:, sun moon surfing, the great wave and the boat of hermes, the silver ladder, astral meadows, the lafta yoga song, glidding, the golden vibe/outglid.
Review:

The first solo album by Hillage, at this time a permanent member of Gong, he recorded this album with collaboration of friends from Gong (Didier Malherbe, Pierre Moerlen, Tim Blake, Mike Howlett) and old friend Dave Stewart (from National Health, Hatfield and the North, Egg) and Lindsay Cooper (from Henry Cow), selected musicians right?
Spacey/guitar driven music , mystic lirics and an excelent play of all musicians,this could be a Gong album without Daevid Allen, Steve is in his best form and the compositions are intense and inspired with great moments (Solar musk suite, The Salmon Song, the complex Afterglid).
An excelent space psychedelic album, I think the best from Hillage.
Submitted by Alex Casado - February 2004
Steve Hillage - Rainbow Dome Musick
1979
Virgin
Track List:
Garden Of Paradise, Four Ever Rainbow.
Review:

Between the great Fish Rising and Rainbow Dome Musick, Steve writes three albums ( "L" recorded with Todd Rundgren´s Band and produced by him, another excellent guitar spacey album, the more funky space Motivation Radio and Green, the most cool).

Here Steve plays lots of synthezisers and some guitar, but this record was intended as an ambient album with influence of Tangerine Dream and Tim Blake´s Crystal Machine (album were Hillage play guitar) something different but very good, a style that years later Hillage would play intensily with samplers and other electronic sounds.
Submitted by Alex Magicflute - February 2004
Holden, Randy - Population II
1970
Hobbit 5002
Track List:
Guitar Song, Fruit & Iceburgs, Between Time, Fruit & Iceburgs (Conclusion), Blue My Mind, Keeper Of My Flame.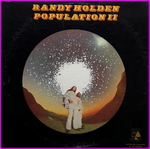 Holden, Randy - Guitar God
1996
Captain Trip CTCD 028
Track List:
Dark Eyes, Wild Fire, Scarlet Rise, Pain In My Heart, Hell And High Water, No Trace, Got Love, Blue My Mind, Castle In The Sky, Dark Eyes Part Two.
Hoods, The - Gangsters & Morticians
1991
Midnight MIRLP 149 (ltd. ed. of 2000) (US)
Track List:
Standback (payback), She put a hex on me, Gangster Jack, You keep on lyin', Laughing at you, She's alright, Two's a crowd, Mystery, I'm your mortician, Nothing at all, She's my car, Rain starts fallin', I wander around, Stupidity.
Review:
It's well known that Mike Stax has a craze for the Pretty Things and Q65, however he never disappointed us, though he didn't succeed in reaching the sublime levels of his idols, and this release isn't inferior to his previous ones. Intensely and purposely his, in fact he wrote twelve tracks out of fourteen. The matrix is certainly the same that marked the records by Crawdaddys and Tell-Tale Hearts; here unlike those works, we can find a greater professionalism from all the musicians, but paradoxically this is a noxious virtue, because it seems to prejudice the spontaneity of the execution. Everybody is faultless: from the vocalist Jay Wiseman (co-author of a lot of the songs) who equals the various Ron Silva and Ray Brandes, to the "obviously" Dutch organist Ron Swart… and I can actually arouse them only one criticism: they don't make any mistake.
File under "punk-R&B handbooks".
Reviewed by Roberto from THE WRONG WAY August 2003
HP Lovecraft - S/T
1967
Philips 252
Track List:
Wayfaring Stranger, Let's Get Together, I've Been Wrong Before, Drifter , That's the bag I'm In , White Ship , Country Boy and Bleeker Street, Time Machine, That's How Much I Love You, Baby...Gloria patria (Trad.).
HP Lovecraft - II
1968
Philips 6336213
Track List :
Spin, Spin, Spin, It's About Time, Blue Jack of Diamonds, Electrallentando, At the Mountains of Madness, Mobius Trip, High Flying Bird, Nothing's Boy, Keeper of the Keys.
HP Lovecraft - Live, May 11, 1968
1968
Sundazed 5004 1991
Track List :
Wayfaring Stranger, The Drifter, It's About Time, The White Ship, At the Mountains of Madness, The Bag I'm In, I've Been Wrong Before, Country Boy & Bleeker Street.
Review:

George Edwards was the founding father of this group. He had spent some time as a folk singer in Chicago and had backed the Shadows Of Knight on a few recordings as a session vocalist before being allowed some time in the studio on his own. One of the session musicians he attracted was David Miichaels, a classically trained singer and excellent keyboard player who brought the harpsichord and organ with him that dominated their eventual sound. Their debut album, was a combination of Edwards's folk roots and the Gothic fantasy tales of nineteenth century novelist H.P Lovecraft woven into their own compositions.
They soon moved down to San Francisco where they quickly made their mark on the ballroom circuit, playing with the usual roster of home-grown bands and agruably blowing many of them off the stage. Imagine a Country Joe and the Fish-style organ style, guitar with lashings of feedback, the aforementioned harpsichord thrown in to give a baroque feel to the whole thing, and then the soaring vocals of Edwards and Michaels. It was a solid combination.
One of their nights at the Fillmore West was fortunately captured for posterity on this disk. This performance is by necessity radically different from the studio versions of their songs, but for me a whole lot better. The opener is "Wayfaring Stranger" a folk song whose origins are lost in antiquity but here credited to Edwards, which lasts for ten minutes, during which one never tires once as they string one inventive passage after another.

This is one of the great strengths of the band. They could play and play, constantly inventing. No tedious guitar solos here, that go on for half an hour too long. It's all tight, inventive stuff. The drummer, Michael Tegza is also great,: always experimenting, adding flourishes without ever taking over. He even gets in a short drum solo which is over before you get the chance to say "Uh oh, here we go." and then he's back to being a driving force in the rhythm section. 'The Drifter' continues the mood. It has a basic urgent riff and as guitarist Tony Cavallari throws in some brief but satisfying solos I'm reminded most of the stinging, acidic sound of Barry Melton at his best.
'It's About Time' follows, and I must confess I find the spirit of this one a little naive. It's one of those 'a better day is coming' type songs - in fact that line comes from the lyrics - which were quite credible in the heady '60s. Also 'that's the thing I know' always struck me as a bit of a clumsy lyric. But if you like Dino Valente's 'Let's Get Together' you might well forgive this one.
"The White Ship" is the dramatic and evocative peak of their performance. This would fit just as easily on the first It's A Beautiful Day album. It has that same languid, stoned, lethargic feel, with similarly soaring vocals, and a lovely baroque harpsichord solo from Michaels to end it. The next song, 'At The Mountains Of Madness' is another Lovecraft-inspired opus on which Michaels's voice is at its most effective and for me this is one of the great psychedelic songs of the whole era. More feedback from Cavallari, and Tegza hitting eveything in sight as the song rolls to a chaotic climax.
There are three more shorter songs to follow, a Fred Neil composition, one by Randy Newman, then another by Neil to wrap up the album. This is where another criticism rears its head, namely that the running order of the whole thing seems wrong. These three songs are fine, but seem tagged on the end and rather an anticlimax after 'Mountains Of Madness.' I expect this was sticking to the original order in which the songs were played, but on CD they fall a little flat. The album also seems a little short for a live concert to me. Still I'm more than thankful for what is available here.
Stirring stuff.
Submitted by Doctor Dark - April 2004
Human Beinz - Nobody But Me
1968
Capitol
Track List:
Nobody but me, Black is the color of my true loves hair, Flower grave, Sueno, Turn on your lovelight, Serenade to Sarah, The Shaman, Dance on through, Foxy lady, It's fun to be clean, This lonely town.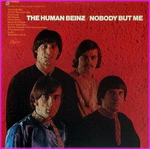 Hypnotics, The - Live'r Than God
1989
Situation-Two SITUM 26
Track List:
All Night long, Lets Get Naked, Revolution Stone, Rock Me Baby, Justice In Freedom.
Review:
Recorded live at the Powerhaus on the 27th July 1989 this album is a baptism by fire if you have never experienced the sonic beast that is Thee Hypnotics. Sure they trawl the back catalogues of The Stooges, Blue Cheer and the MC5 in search of inspiration, but with that out of the way prepare yourself for some of the most stunning rock ever to come out of England. James Jones has to be one of the coolest people ever to walk the planet with a stage presence so huge that no venue can withstand his persona.
Thrashing and flailing around the stage like a cross between Iggy Pop, Mick Jagger and Rob Tyner in low slung hipsters and pointed boots James Jones screams his way though a selection of Hypnotics originals and a blistering Rock Me Baby, kept aloft by the throbbing bass of Will Pepper, the relentless drumming of Mark Thompson and the white hot slabs of guitar that spit out from Ray Hansons Marshall stack and slash and burn the front row like a 'Nam Napalm Attack.
"25 million and that's just the start of it..........shake it shake shake it shake it till some good comes."
Reviewed by pOoTer
The Hunger - Strictly From Hunger
1969
Public 1006
Track List:
Colors, No Shame, Workshop, Portland 69, Trying To Make The Best, Open Your Eyes, The Truth, Mind Machine, She Let Him Continue, Trying To Make The Best No.2.